Nimble Storage Adaptive Flash Arrays (CS-Series)
Nimble Storage jumped on the all-flash bandwagon in 2016, but didn't forget its disk fans by upgrading its CS-Series mixing flash and hard disk drives.
Silver winner in the Storage magazine/SearchStorage.com 2016 Products of the Year Disk and Hybrid Systems category.
The upgraded Nimble Storage Adaptive Flash Arrays (CS Series) had enough impressive additions mixed in with its tried and true features to win the silver award.
While Nimble Storage spent a lot of time launching and pushing its all-flash storage arrays in 2016, the vendor remembered its disk roots. Nimble refreshed its CS hybrid array platform that mixes solid-state drives and spinning disk drives. The vendor added an entry-level product to its Nimble Storage Adaptive Flash Arrays for under $59,000 while extending scale on the high end to 5.6 PB of effective storage with compression and 240,000 IOPS in a scale-out cluster.
Nimble increased the size of its flash cache in the upgraded systems and claimed its compression reduces dollars per usable gigabyte by up to 43%. The CS Series supports Fibre Channel and iSCSI block storage.
The judges scored the CS platform high for ease of use and management and functionality. For instance, CS customers can perform their own firmware upgrades. Nimble Storage Adaptive Flash analytics also won high marks.
"Some good innovation around the central analytics being collected and performed," one judge said of Nimble Storage Adaptive Flash Arrays.
Nimble claimed its InfoSight Predictive Analytics can find 90% of its arrays' problems before customers become aware of them, and data protection is integrated into the array. The CS Series' auto-performance adapts performance to meet the needs of each application.
Even before adding all-flash arrays, Nimble Storage Adaptive Flash did a good deal of work to make SSDs perform better in its hybrid arrays. The CS hybrids allow customers to pin volumes to flash to give specific applications the same performance as they would on an all-flash array. That allows multiple service levels within an array.
Nimble's CASL file system uses SSDs as a read cache and places persistent storage on hard disk drives. It improves write performance by sequencing random write data.
"Very high performance," one judge said.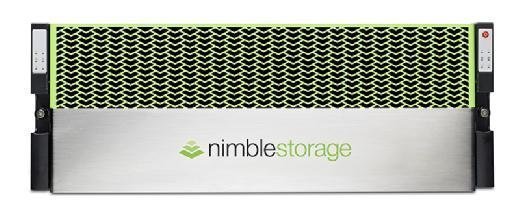 Nimble also wins praise for its integration with hypervisors.
A judge summed up: "Very good hybrid-based on VM-centric ease of use."
Nimble is no stranger to our Products of the Year winners list. Its CS700 won a bronze for hybrid/all disk storage in 2014 and its AF-Series of all-flash arrays is the 2016 gold winner in all-flash storage.
Next Steps
See Nimble Storage products in action
Nimble unveils AF Series arrays
Nimble tweaks pricing options