Nimble CS700
Nimble Storage adds a higher-capacity model to its iSCSI hybrid arrays, plus an all-flash shelf to bulk up performance.
Bronze winner in the Storage magazine/SearchStorage.com 2014 Products of the Year Storage Systems: Disk and Hybrid Systems category.
The Nimble Storage Inc. CS700 Storage Array is the highest capacity of Nimble's product line, and the first in what the vendor calls its Adaptive Flash platform.
The Nimble CS700 uses Intel's Ivy Bridge chip, and scales to 254 TB of hard disk drives (HDDs) and 16 TB of solid-state drives (SSDs) in a four-node cluster. Each node includes 12 HDDs and four SSDs.
The CS700 series also supports Nimble's All-Flash Shelf (AFS), which was launched in 2014. The AFS holds up to 16 TB of flash in a shelf, and 64 TB in a four-node cluster. Support for more flash can significantly boost the performance of Nimble arrays.
Nimble's Cache Accelerated Sequential Layout (CASL) architecture automatically deploys flash as needed by different workloads. Nimble also uses its InfoSight monitoring to advise customers on the optimal approach for scaling IOPS, cache and capacity.
Nimble claims its CASL architecture decouples performance from spindle speed, which allows the CS700 to deliver twice the number of IOPS of a multi-level cell SSD using a 7,200 rpm HDD. Each node delivers 125,000 IOPS (500,000 IOPS in a four-node cluster) with sub-millisecond read/write latencies, according to the vendor.
The Nimble CS700 also includes capabilities the vendor has had either from the start or added in previous upgrades. They include inline compression, snapshots, WAN-efficient replication, thin provisioning, zero-copy cloning, Nimble Protection Manager and Nimble Connection Manager.
Nimble Storage recently added Fibre Channel (FC) connectivity for the CS700 and its other arrays, but FC support came too late to be included in judging for this system.
"Defining how to marry flash and HDD, Nimble aims to handle any and all workloads, becoming the one storage solution needed in a consolidated environment," one judge said. Another described the CS700 as "clever and innovative hybrid storage."
Pricing for a Nimble Storage CS700 iSCSI array starts at $208,500 for 36 TB of raw capacity, 3.2 TB of flash and dual controllers.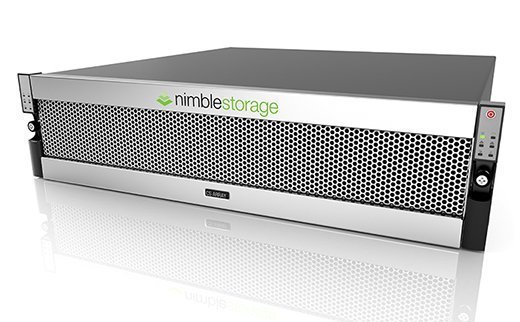 Next Steps
Nimble product refresh adds two hybrid flash arrays