Atlantis USX 2.0
Atlantis Computing's USX 2.0 claims the silver medal in the storage system software category in Storage magazine's Products of the Year competition.
Silver winner in the Storage magazine/SearchStorage.com 2014 Products of the Year Storage System Software category.
Atlantis Computing Inc.'s USX 2.0 claimed runner-up honors in the storage system software category with top-five scores for innovation, functionality, value, performance and ease of integration.
Atlantis USX 2.0 helps users to reclaim underutilized storage capacity and improve performance. It integrates with VMware's hypervisor and enables users to pool SAN, NAS, flash, RAM, DAS, hybrid arrays and public cloud storage to provide virtual storage volumes to applications.
The software also includes HyperDup content-aware data services that use server RAM to boost storage efficiency, performance and capacity. Services include real-time deduplication and compression.
USX 2.0 can make a storage system compliant with VMware Virtual Volumes (VVOLs) without the need to purchase or update SAN or NAS infrastructure. The software's teleport capabilities allow virtual machines (VMs) to be moved quickly between data centers and the cloud.
"This is a game-changing piece of software," one judge said. "The ability to provide VMware VVOLs to any storage or storage system alone is impressive. Add in the exceptional performance, data reduction and data mobility, and this is an outstanding software-defined storage product. USX 2.0 is an instant gratification product for VMware administrators."
Another judge commented that USX 2.0 is a "good evolution of the previous virtual desktop infrastructure platform with nice innovations" around the use of the non-volatile dual in-line memory module.
However, another judge said USX 2.0 might get overshadowed by other virtual storage appliances and VMware's Virtual SAN. But, he said, the product deserves a serious look as it "still offers great life extension for existing arrays, including VVOLs support layer and hybrid cloud storage tiering."
The software supports the REST API to extend functions such as provisioning, and policy-based management and monitoring of pooled data stores; it also enables the use of existing management systems such as vCenter, vROps (formerly vCOps) or vRealize Automation (formerly vCAC).
Pricing is based on storage capacity, and the least expensive configuration is $2 per gigabyte, according to Atlantis.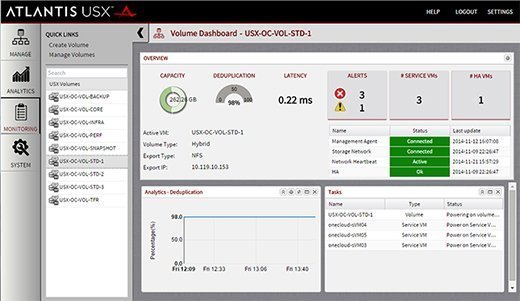 Next Steps
Use Atlantis USX to improve VMware VSAN