Scality Inc. Ring 5.0
Scality's Ring 5.0 software-defined storage shares the bronze award in the Products of the Year storage system software category with VMware's VSAN.
Co-winner for Bronze in the Storage magazine/SearchStorage.com 2014 Products of the Year Storage System Software category.
Scality Inc. Ring 5.0 software runs on commodity hardware and uses an object storage core to scale as a single distributed system across multiple sites and potentially thousands of standard x86 servers.
Version 5.0 adds Amazon Elastic Block Store (EBS)-like virtual machine storage capabilities to enable users to run multiple cloud workloads across file, object and virtual machine (VM) applications in a potentially petabyte-scale storage environment.
Among the 11 storage system software finalists, Scality Ring 5.0 rated second in functionality, tied for second in ease of use and manageability, and placed third in innovation and fifth in performance based on the average scores of judging panel.
"Object storage software appears to be [a] differentiating [factor] on performance and interfaces going forward, and Ring 5.0 appears to be leading the pack," one judge said.
Scality said file operations and random I/O are as much as 95% faster than they were in last year's model. The company also claims that performance matches Amazon's EBS at 200 IOPS per VM with bursts of 3,000 IOPS per VM, and the product can scale to hundreds of thousands of VMs.
Scality Ring 5.0 interface support includes NFS, SMB and Linux file systems for file storage; Swift, CDMI, S3 and Scality REST for object storage; and NFS and OpenStack Cinder for standard VM storage. The product supports VMware and KVM hypervisors.
The updated Ring 5.0 software-defined storage improves automation of deployment, installation and management with standard tools, and features a redesigned GUI
Scality said the list price is $114,950 for the first usable 500 TB. Tiered discounts are available as usable capacity increases. Discounts are also an option based on the sales channel. The configuration covers both usable capacity and capacity for data protection for the lifetime of the hardware, according to a company spokesperson.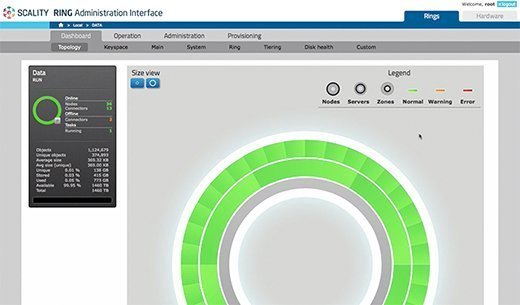 Next Steps
Scality extends its global reach with HP deal