HP OneView for VMware vCenter 7.4.2
HP OneView for VMware vCenter management software provides a complete look into virtual environments, spanning both physical and virtual layers.
Silver winner in the Storage magazine/SearchStorage.com 2014 Products of the Year Storage Management Tools category.
The Hewlett-Packard OneView management software integrates with VMware vCenter to provide monitoring and provisioning capabilities for both physical and virtual HP environments from the vCenter console. Released in September 2014, version 7.4.2 added support and functionality that our judges agreed made this product a good option for management of all components of a data center.
Notable features of HP OneView for VMware vCenter include automation capabilities the vendor said can significantly cut back on the time it would take to otherwise manually provision storage. Administrators can create "templates," from which future provisioning of storage, compute and networking can be modeled. A number of different actions can be automated, including SAN zoning, attaching storage to server profiles and responses to various hardware events, to reduce downtime. In addition, integration with vCenter means OneView has a detailed dashboard that provides performance monitoring and visualization information, such as how virtual machines are mapped to storage and how volumes are configured.
Version 7.4.2 expands on OneView's provisioning capabilities, adding features such as Boot from SAN to allow ESXi deployment on 3PAR storage and Grow Cluster, a feature used to provision 3PAR storage. A new integrated deployment wizard gives administrators the ability to create virtual storage from existing server capacity. Though support doesn't extend past HP hardware, it was extended within the HP portfolio in 7.4.2 to include Gen9 ProLiant servers. OneView 7.4.2 is available as a free download through HP's website.
Judges scored HP OneView for VMware vCenter highly for performance, ease of use and manageability, and value. One said "bringing visualization into vSphere is good for many smaller SMBs," while another commented that "this free plugin for vCenter provides tons of value if you are an HP infrastructure client."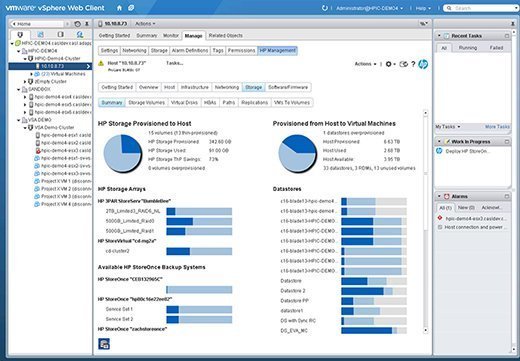 Next Steps
HP enhances OneView for HPC and cloud