Fotolia
How HPE OneView composes, manages Synergy infrastructure
HPE OneView enables Synergy composable infrastructure to do its job. Learn how OneView enables users to manage compute, storage and network for composing virtual servers on-demand.
Hewlett Packard Enterprise Synergy is a composable infrastructure platform that disaggregates compute, storage and fabric resources and enables them to be provisioned on demand. At the heart of the platform is Synergy Composer, an integrated management appliance that's powered by HPE OneView. A software-defined infrastructure, HPE OneView composes and manages Synergy resources, delivering them as fluid resource pools that can be allocated as needed to meet fluctuating workload requirements.
OneView combines software-defined intelligence with a template-driven architecture that enables organizations to quickly provision, deploy, update and optimize resources through a single interface. It eliminates many of the complexities of resource management by treating infrastructure as code, helping to speed up operations while making them easier and faster to carry out. OneView also provides a standards-based API for accessing infrastructure elements in order to support automation, integration and customization.
Although HPE OneView is vital to Synergy operations, it's not limited to that platform. Customers can use OneView with a number of other HPE appliances, including BladeSystem, ProLiant DL and ML, Superdome X and Flex, Primera, Nimble, 3Par StoreServ, and several others. However, only Synergy includes OneView as a hardware appliance, delivered through Synergy Composer. For other HPE platforms, OneView is available as a virtual machine appliance.
Composing Synergy infrastructure with OneView
HPE OneView and the Synergy platform enable IT administrators to compose on-premises physical infrastructure as they would code, allowing them to automate complex tasks at scale with minimal effort. Software defines the physical infrastructure and makes it programmable and manageable. Not only does this simplify lifecycle operations, but it also makes them more consistent and predictable while facilitating better compliance.
Furthermore, OneView helps streamline operations in large-scale production environments, eliminating the need to repeatedly write, debug and update custom scripts. A local interface provides administrators with a comprehensive view of the Synergy environment, along with proactive monitoring across the entire system. HPE also offers the OneView Global Dashboard for viewing HPE resources across data centers anywhere in the world.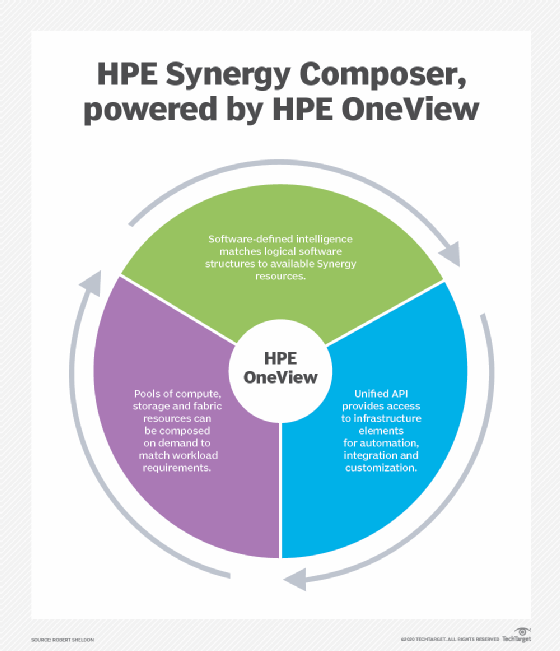 The API enables administrators to integrate the Synergy platform with third-party tools, making it possible to link the infrastructure into cloud services, DevOps processes and open source tools. Third-party vendors can also use the API to integrate their products into the Synergy infrastructure platform. For example, Chef Software, ServiceNow and Red Hat Open Shift all provide OneView integration. In addition, OneView includes plugins for connecting with VMware vCenter and Microsoft Systems Center.
OneView can help accelerate lifecycle management across the entire infrastructure, freeing up administrators for other operations and increasing productivity. It can also eliminate the type of errors common to custom scripts and protects against cyberattacks through its support for the Commercial National Security Algorithm and Federal Information Processing Standards 140-2. In addition, the real-time visibility provided by the local interface helps identify potential security threats across the environment, as well as track the health of managed resources.
Composing resources on the Synergy platform
OneView can manage and monitor all compute, storage and fabric resources in the Synergy composable infrastructure platform. To a lesser degree, it can also manage rack, power, cooling and hypervisor resources. OneView consolidates infrastructure management tools into a single resource-oriented architecture that facilitates access to both physical and logical resources. The OneView architecture encompasses the entire hardware lifecycle, from initial provisioning and configuration through maintenance and monitoring.
OneView incorporates a common representation of the resources that connects them together, while modeling their associations and interdependencies. The software abstracts the physical hardware into virtual constructs that can be grouped together based on common attributes. In this way, administrators can manage multiple devices as a unit, leading to simpler and more consistent operations. They can also manage devices individually when needed.
To provision resources, administrators create code templates that describe how to compose the physical resources. They can use the templates to create physical, virtual or containerized host systems for specific workloads. Templates can define a wide range of configurations, such as shared storage requirements, BIOS settings, RAID configurations, firmware baselines or system updates. Administrators can quickly and reliably provision resources as needed, as well as automate common IT infrastructure management tasks. OneView uses profiles to prepare bare-metal servers for operating system deployments.
HPE OneView and the Synergy platform enable IT administrators to compose on-premises physical infrastructure as they would code, allowing them to automate complex tasks at scale with minimal effort.
Both developers and administrators can also use the OneView API to access the management architecture without having detailed knowledge of the underlying infrastructure. The API makes it possible to automate and integrate a wide range of provisioning operations -- from customized workflows to high-level orchestration. All API calls use HTTPS over Transport Layer Security to protect the Synergy environment.
OneView provides several other protections, as well. For example, the software limits the number of open ports, and it has a restricted interface that prevents access to the underlying OS and other software. In addition, OneView separates the data and management planes and encrypts all at-rest sensitive data. Resource groups also help to protect Synergy infrastructure by standardizing security and compliance best practices across multiple systems.
Ongoing OneView improvements
HPE introduced OneView in 2014 and has continually enhanced the software ever since. In fact, the company has come out with three updates in the last six months alone. It released version 5.2 in May 2020, 5.3 in July 2020, 5.4 in September 2020 and it appears that OneView 5.5 could come at any time.
OneView 5.2 added enhanced software-defined capabilities for automating data center management across HPE platforms. The release also included several updates specific to Synergy. For example, it improved network load-balancing for the interconnect modules, resulting in more predictable network performance. It also added basic power mode to the Synergy frame and the ability to configure IP addresses on Synergy compute modules, while providing support for IPv6-only mode.
The OneView 5.3 release included a number of improvements, as well, such as adding the Accelerated Server Profile Move feature, which enables administrators to move Synergy and BladeSystem server profiles much faster between frames, resulting in better compute resource balancing and availability. The 5.3 release also introduced a preview of HPE InfoSight analytics, which are now embedded within the OneView platform, making it possible to analyze telemetry data, identify relevant information and receive critical alerts.
The OneView 5.4 focused on usability and time-saving capabilities that make it easier to perform appliance and firmware updates. For example, when updating from OneView 5.3 to OneView 5.4, the standby appliance is updated first, while the active appliance remains operational, which decreases the amount of management downtime. In addition, this release enhances the firmware update for Synergy Virtual Connect, providing administrators with greater control over the update process.
As OneView continues to improve, so, too, does the Synergy platform, making HPE's composable infrastructure a more comprehensive solution than ever. OneView provides the management capabilities necessary to compose compute, storage and fabric resources on demand, enabling administrators to provision and maintain infrastructure much faster and more efficiently. In this way, they can better support today's dynamic and varied workloads, while having more time to focus on other initiatives.