What is Superdome?
Superdome is a high-end 64-bit, Hewlett Packard Enterprise (HPE) PA-8600 processor-based UNIX server designed for e-commerce customers using very large databases.
HPE Superdome is available in three configurations and comes bundled with HPE's e-service software packages and customer support options. The server runs HP-UX 11i, the vendor's version of UNIX, but will be compatible with Microsoft Windows and Linux operating systems sometime in the future.
These HPE servers are frequently used in data centers for mission-critical applications that require high-performance, high-availability CPUs, and an operating environment that can support customers' specific workloads and scalability requirements.
What are HPE Superdome's features?
A main feature of the HPE Superdome server is its ability to be split into several partitions, or nPars, each with its own operating system.
Partitions, defined in hardware, can be subdivided into software-based virtual partitions allowing resources, such as processor power or communication bandwidth, to be assigned to specific jobs.
The building block of the Superdome's core is a cell, a card-shaped device containing multiple processors and memory space.
Each cell contains a cell controller (CC) which connects to the processor socket. Each processor within the cell has an average bandwidth of 1.6 gigabytes per socket.
Each CC interconnects to create a crossbar fabric that supports additional processor sockets. The most advanced version of the processor supports up to 64 processor sockets for processing redundancy.
Instead of being mounted on a standard rack, the device can be shipped as either one or two cabinets, an enclosure design inspired by the HP BladeSystem C7000. Each cabinet can hold up to 8 cells.
What is the history of the Superdome?
The Superdome was released in 2000 and featured PA-RISC processors. In 2002, a new version was released that used Intel Itanium 2 processors.
The Integrity Superdome 2 was released in 2010. It used the Intel Itanium 9300 microprocessor and the number of sockets in the processor was increased from two to 32, with up to 128 cores and four terabytes of memory.
HPE released the Superdome X based on Intel Xeon processors in 2016. In 2017, Intel announced that its newest update, featuring the Itanium 2 "Kittson" chip, would be its final update.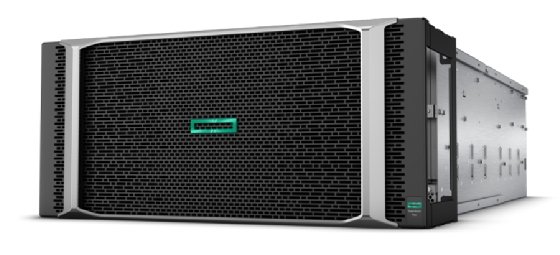 The HPE Superdome Integrity servers are currently available in the following four generations:
the legacy version, which contains PA-RISC cells;
the SX1000, which can include Itanium and PA-RISC cells;
the SX2000, which can include Itanium and PA-RISC cells; and
the SX3000, which contains only the Itanium 9300-series blades.
HPE also introduced the Superdome Flex in 2017. The Superdome Flex is a scalable and modular in-memory computing platform based on the Superdome X and technology HPE acquired through its acquisition of SGI for high-performance data analytics.
This was last updated in
November 2021
Continue Reading About Superdome
Dig Deeper on IT applications, infrastructure and operations