Features distinguish leading composable infrastructure systems
Before selecting a composable architecture, compare the different platforms' processing power, latency rates, supported IOPS, size and type of memory.
Cisco, Dell EMC and Hewlett Packard Enterprise offer composable infrastructure platforms that disaggregate physical resources and deliver them as on-demand services that can accommodate varying and dynamic workloads. All three vendors claim their platforms outshine any others on the market, and each one certainly offers features that make it stand out among its competitors.
At the same time, there are many similarities among these three platforms, which can make it difficult for IT decision-makers to distinguish one product from another or know how to select the right composable infrastructure for their organization. Only by carefully researching and comparing the available platforms can they make qualified decisions. To help with this process, here, we take a closer look at these vendors' composable infrastructures and the features they offer that set them apart.
The top 3 composable infrastructure platforms
Cisco Unified Computing System, or UCS, offers a fabric-centric architecture that combines compute, storage and network infrastructure with management and virtualization capabilities. Cisco UCS blends the system's I/O traffic into a shared active-active network to provide a policy-based composable infrastructure. Cisco designed its platform to abstract every system aspect of the hardware, from firmware revisions to network profiles. The platform includes more than 125 variables for specifying server resources, each of which can be configured through software.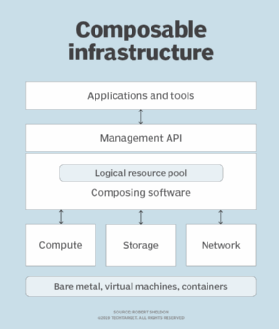 The Dell EMC PowerEdge MX platform builds on the idea of the kinetic infrastructure, which is essentially the company's version of composability. The kinetic infrastructure provides a modular architecture for composing compute and storage resources to support a dynamic mix of workloads. Dell EMC also designed the infrastructure to incorporate new interconnect technologies when they become available. In addition, the company plans to expand its platform to include memory-centric devices, such as dynamic RAM or persistent memory.
The Hewlett Packard Enterprise (HPE) Synergy platform abstracts compute, storage and network resources to create a set of fluid resource pools that can be managed through software and configured to support both traditional and modern workloads. HPE built the Synergy platform from the ground up to provide a modular design that supports composability and reduces operational complexity, resulting in a complete software-defined product that, according to HPE, is the industry's only established 100% software-defined bare-metal infrastructure.
Inside the composable infrastructure platforms
Cisco UCS uses a pair of fabric interconnects to provide a single point of connectivity for integrating blade, rack, multinode and storage servers into a unified system. The platform also uses virtual interface cards to extend the network fabric to servers and virtual switches. Cisco provides fabric extenders that distribute the system's connectivity plane to the rack servers and blade chassis. In addition, the platform incorporates Cisco's SingleConnect technology, which provides an efficient and intelligent mechanism for connecting and managing server resources.
All three vendors [Cisco, Dell EMC and HPE] claim their platforms outshine any others on the market, and each one certainly offers features that make it stand out among its competitors.
To meet the platform's performance and scalability demands, Cisco UCS uses a low-latency lossless fabric that can support up to 40 Gbps. The platform shares bandwidth across I/O modules, enabling one component to borrow from others to accommodate traffic bursts. The platform's selected nodes also play a role in performance and scalability. For example, the UCS B480 M5 blade server can use first- or second-generation Intel Xeon Scalable processors and can support up to 6 TB of memory or 12 TB of Intel Optane DC persistent memory. UCS Central Software, which can manage multiple UCS instances, can support up to 10,000 UCS servers.
The Dell EMC PowerEdge MX platform includes a variety of modular components for building a composable infrastructure. The components include server, storage, network and fabric switching modules, along with a 7U chassis for housing all the pieces. The MX servers are based on the concept of no-midplane design, which removes the compute midplane to prevent signal loss, improve airflow around components and better accommodate future technologies.
Because of the platform's modular design, an organization can pick the components that best meet their performance requirements, while adding components to address future scaling needs. For example, the PowerEdge MX840c compute module can house up to four second-generation Xeon Scalable processors and up to 6.1 TB of memory or 12.2 TB of Optane DC persistent memory. A nonblocking switching architecture provides 25 Gigabit Ethernet (GbE) forwarding capacity to connected servers, with sub-450-nanosecond latency, no oversubscription and up to 6.4 terabits per second of switching I/O bandwidth.
HPE offers numerous components for its Synergy platform, making it possible to support a wide range of virtualized and containerized workloads, as well as workloads running on bare metal. The platform starts with the Synergy 12000 Frame, which can house compute, storage and network components; network interconnect modules and switches; additional power supplies; redundant frame link modules; or the Synergy Composer appliance. The appliance comes with an embedded version of HPE OneView for managing the infrastructure.
An organization's performance requirements will dictate how to select the components. For example, the Synergy 660 Gen10 compute module supports two or four Xeon Scalable processors and up to 6 TB of memory. The Synergy D3940 storage module provides a high-performance SAS connection with 16 SAS 12 Gbps lanes. And the Synergy 50Gb Interconnect Link Module offers 25/50 Gb connectivity. In addition, the 12000 Frame can support 100 GbE interconnect modules and 32 Gb Fibre Channel interconnect modules.
Managing the composable infrastructure platforms
Cisco UCS Manager, which integrates and configures the platform's components, is embedded in every UCS instance. UCS Manager can provision resources, discover devices, inventory and monitor systems, collect statistics and detect faults. Cisco also provides UCS Central Software, a product for extending UCS Manager across multiple UCS domains, making it possible to work at a global scale.
Another tool available to UCS users is the Intersight platform, an intelligent, cloud-based infrastructure management service. The service includes a recommendation engine that uses collected telemetry data to identify potential issues in UCS and Cisco HyperFlex platforms. In addition, the UCS platform offers an open API to facilitate integration with third-party management tools. To assist with security, the server processors include hardware-assisted advancements that reduce performance overhead for data encryption and decryption.
The Dell EMC PowerEdge MX platform includes OpenManage Enterprise-Modular Edition, a management application that simplifies and automates administrative tasks, while providing a unified view of the managed resources. OpenManage includes a RESTful API for controlling compute, storage and network resources throughout the PowerEdge MX platform, enabling IT to deploy, configure, manage and monitor the PowerEdge servers, as well as troubleshoot and remediate issues.
In addition, the PowerEdge MX platform includes SmartFabric Services for managing and automating the platform's fabric. The services validate topology and automate quality of service settings. They also support fabric-wide firmware upgrades and I/O aggregation, which helps to simplify connectivity. In addition, SmartFabric Services can automatically repair fabric failures after issues have been resolved.
Dell EMC embeds an integrated remote access controller in every PowerEdge server to simplify server management. Each server also provides an immutable silicon-based chain of trust and supports signed firmware updates using SHA-256 hashing. In addition, the servers include system lockdown features to prevent unauthorized configuration or firmware changes. The PowerEdge MX platform also supports Federal Information Processing Standards, or FIPS, and GDPR.
HPE provides OneView for managing the Synergy platform. OneView is built into the Synergy Composer appliance and offers automated intelligence that simplifies administrative tasks. OneView also includes a global dashboard that provides quick access to information about the infrastructure's capacity and health. In addition, OneView includes the Firmware Compliance view for comparing firmware versions and generating compliance reports.
HPE also offers the Synergy Image Streamer appliance, which works in conjunction with the Synergy Composer appliance to rapidly deploy and update infrastructure resources. In addition, Synergy users can monitor Synergy compute modules using HPE InfoSight, which uses globally collected metrics and predictive analytics to discover issues with HPE server and storage modules. HPE also provides a unified API for OneView that enables IT to integrate third-party management tools with the Synergy platform.
How to select a composable infrastructure platform
When researching composable infrastructure products, it's important to consider the use cases the organization plans to support now and -- just as importantly -- in the foreseeable future. The challenge with this, however, is vendors routinely market composable infrastructure platforms for their flexibility and ability to support varying workloads that are particular to their individual products.
Cisco, for example, claims its UCS platform is suited to anything from Agile development environments running on bare-metal servers to cloud computing environments delivering VMs. Dell suggests its PowerEdge MX platform can benefit data-heavy workloads, such as relational databases, ERP and dense virtualization. HPE, on the other hand, tends to focus on specific use cases, such as managing a state's transportation infrastructure or a retailer's distribution center.
Decision-makers should certainly take these potential use cases into account, but they also should look at the infrastructure's physical capabilities -- such as processing power, latency rates, supported IOPS, and size and type of memory -- as well as the software that drives the infrastructure. In addition, they should consider security, platform manageability, system interoperability and any other factors important to supporting their workloads. Cisco, Dell EMC and HPE all offer credible composable infrastructure platforms, but that doesn't mean they're the right fit for every organization.
What other composable storage products offer
Although Cisco, Dell EMC and HPE have been grabbing most of the headlines when it comes to composable infrastructure, they're certainly not the only vendors in town.
DriveScale, for example, offers its Composable Platform for orchestrating industry-standard compute nodes, GPU nodes and storage resources. The product delivers a fully automated, bare-metal cloud infrastructure that supports industry technologies, such as Kubernetes and NVMe-oF, while providing intelligent resource optimization through the use of machine learning and other AI technologies.
Another composable infrastructure product is Kaminario Flex, which can dynamically compose, optimize and manage resources, whether physical or cloud-based. The platform controls the resources underlying Kaminario's Data Plane Virtualization platform, making it possible to dynamically compose and orchestrate infrastructure resources from a shared pool of compute and storage nodes. The product also lets organizations create, assign and manage resources for containerized applications, while providing a RESTful API for dynamically requesting data services.
Liqid also offers a composable infrastructure platform for pooling compute, storage, network and other resources. The platform deploys the resources across an intelligent fabric, which enables them to be instantly interconnected into physical servers, as well as dynamically reconfigured. The Liqid platform also includes management software that can dynamically compose physical servers on demand from pools of bare-metal resources.
Another example of a composable infrastructure product is Western Digital's OpenFlex platform, which implements an NVMe-oF architecture to improve server and storage performance, utilization and agility. The product uses the Open Composability API, a RESTful API used to create a unified fabric control plane that can compose disaggregated compute, storage and network resources into virtual systems. The Open Composability API builds upon industry standards, such as HTTP, the Common Information Model standard, REST and JavaScript Object Notation, or JSON.
Another variation on the composability theme is Intel's Rack Scale Design (RSD), a reference architecture for building composable, disaggregated infrastructures. A platform built according to the RSD specifications consists of rack-based hardware resources and software components based on Intel's RSD reference code and API specifications. The RSD platform uses software-defined technologies to compose operating environments on demand in order to support specific workloads.
Datrium offers yet another take on composability with Datrium DVX, a disaggregated hyper-converged infrastructure (HCI) product. The Datrium product is essentially an HCI in which the compute and storage resources are provisioned independently of each other, addressing one of the biggest challenges with the traditional HCI product: the requirement to scale resources together in a single building block. In the Datrium model, the workloads run on the compute nodes, which also host the software used to manage the storage nodes, while still enabling them to scale independently of the compute resources.