WavebreakmediaMicro - Fotolia
Dell EMC PowerEdge MX teases 'kinetic' compute and storage
Dell EMC composes its MX composable infrastructure story around SAS storage sleds that slide into in a single 14th generation 7U PowerEdge chassis, with OpenManage software.
Dell EMC today filled in the details of its composable storage plans.
The vendor introduced Dell EMC PowerEdge MX, a high-end addition to its 14th generation server hardware. PowerEdge MX first was previewed at Dell Technologies World in May. The product is scheduled for general availability on Sept. 12.
Dell EMC bills the MX platform as "kinetic" architecture to build flexible modules of compute and storage to handle legacy and emerging workloads on a single system.
"Infrastructure products today are compute-centric, and that's where bottlenecks occur," said Ravi Pendekanti, a Dell EMC senior vice president of server solutions product management and marketing. "We are building products to be memory-centric. The goal is to [avoid] a rip-and-replace forklift upgrade and allow our customers to take advantage of new technologies as they come into play."
The PowerEdge MX7000 7U chassis houses a two-socket or four-socket blade sled, seven direct-attached SAS storage sleds and redundant I/O fabric modules. Dell EMC PowerEdge MX compute servers support the full line of Intel Scalable Processors with up to 6 TB of memory. The MX740c server accepts six 2.5-inch NVMe, SAS or SATA drives, while the MX840c server accepts eight drives.
A single PowerEdge MX5016s storage sled contains 16 hot-pluggable SAS drives for capacity storage. Including the six drives for server storage, a fully populated MX7000 chassis holds 118 storage devices. Drives can be mapped to individual or multiple application servers.
Infrastructure products today are compute-centric, and that's where bottlenecks occur.

Ravi Pendekantisenior VP of server solutions product management and marketing, Dell EMC
Traditional blades plug in to a networked storage environment, but storage and compute are inching closer together, said Brian Payne, a vice president of product management and marketing at Dell EMC PowerEdge.
"MX has more storage per compute than [others] in the industry. We can scale the storage with the storage sled and connect it via a SAS fabric across multiple MX chassis," Payne said.
Dell EMC eschewed the use of a midplane to make MX7000 more extensible for new technologies, Payne said.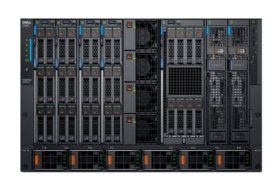 Dell EMC pushes extensible modular design
The concept of composable infrastructure has similarities to hyper-converged systems, but also has key differences. Hyper-converged systems package fixed ratios of compute, networking and software-defined storage on an integrated appliance. In composable infrastructure, an application uses automated API calls to provision resources on demand from pooled racks of compute, memory or storage components.
Dell EMC becomes the second major storage vendor to tailor a product for separating compute and storage on a by-the-rack basis. Hewlett Packard Enterprise introduced the idea of composable hardware racks with its Synergy launch. Startups Attala Systems and Liqid also have introduced products that separate compute and storage. Other Dell EMC rivals IBM, NetApp and Pure Storage have not disclosed plans for composable storage products.
"Composability means an application is no longer constrained by the infrastructure," said Scott Sinclair, a storage analyst at Enterprise Strategy Group. "The application starts to define the infrastructure, rather than the other way round."
Sinclair said Dell EMC PowerEdge MX has a modular design based on the vendor's flagship server technology, making it easier to customize workloads and adopt new memory and storage technologies.
"Modular environments are going to be more and more important over time," Sinclair said. "We're starting to see more diversity on the compute and memory side, away from an all-x86 server world."
MX Scalable Fabric Architecture I/O modules provide 25 Gigabit Ethernet (GbE) and 32G Fibre Channel (FC) host connectivity, combined with 100 GbE and FC uplinks designed to reduce switching latency in a multi-chassis architecture. Enterprise customers can attach the MX cluster directly to a Dell EMC PowerMax SAN. Embedded top-of-rack switching supports modular and rack servers with direct connectivity to the fabric spine.
Pendekanti said the prime target market for Dell EMC PowerEdge MX is hyperscalers and enterprises with dynamic compute and storage needs.
"Between any two servers and a collection of 10 MX chassis, we can guarantee a 550 nanosecond server-to-server communication," he added.
Dell EMC also launched a modular edition of its automated OpenManage Enterprise suite to speed MX hardware rollouts. The management tool automatically discovers when chassis and nodes join the cluster. An IT administrator can manage up to 80 servers across 10 chassis under a single switching infrastructure.
Dig Deeper on Converged infrastructure management