Tegile Systems IntelliFlash HD
Tegile Systems IntelliFlash HD intended to appeal to medium and large enterprises looking to consolidate multiple workloads on a single all-flash array.
Silver winner in the Storage magazine/SearchStorage.com 2016 Products of the Year All-Flash Systems category.
Tegile Systems' silver-winning IntelliFlash HD 5U all-flash system is the fruit of the vendor's OEM partnership with SanDisk (now part of Western Digital Corp.). The IntelliFlash HD combines Tegile's 2U controller and IntelliFlash operating system with the SanDisk InfiniFlash IF100 all-flash chassis.
Tegile Systems IntelliFlash HD incorporates two tiers of flash. A high-performance flash tier that logically partitions metadata and write logs is coupled with a dense flash layer to serve application and user data. Tegile Systems software intelligence manages data placement across flash tiers based on an application's performance requirements.
The dense IF100 enclosure supports 64 SanDisk SAS-connected PCIe NAND flash cards to cram 512 TB of raw capacity into 3U of rack space. The PCIe flash performance layer serves as a fast cache to support inline data deduplication across the array. Tegile Systems combines the PCIe tier with a 2U box with slots of 24 enterprise MLC flash drives as a capacity tier.
Tegile IntelliFlash HD provides "similar innovation to Nimble, but with slightly lower density ... better performance, [but trailing Nimble on] predictive analytics," according to one judge.
Tegile Systems also sells five internally developed all-flash storage array models. The IntelliFlash HD product targets medium and larger enterprises that want to collapse multiple workloads on a single all-flash platform.
The vendor claimed its IntelliFlash architecture provides flash storage at 50 cents per gigabyte. It lists big data analytics applications, data warehouses, image processing and private clouds as projected IntelliFlash HD use cases.
Tegile IntelliFlash supports unified storage with native block and file protocols with clones, inline data reduction, snapshots, replication and thin provisioning.
Effective capacity scales to 10 PB in 42U after inline data reduction is applied. Sustained rack performance is rated at 5 million IOPS with submillisecond latency.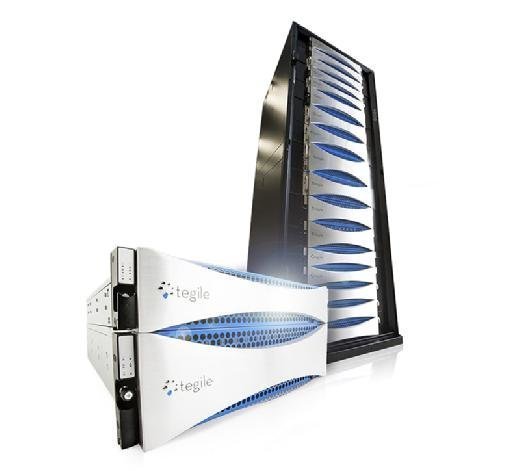 List price starts at $425,000 for the IntelliFlash HD T10KHD-100 model with 522 TB of effective all-flash storage. The T10KHD-200 and T10KHD-300 scale respectively to 1,044 TB and 1,566 TB.
In the assessment of another judge, Tegile IntelliFlash offers "huge performance from a small system, and price per gigabyte is great," although its minimum price likely puts the product beyond the budget of some enterprises.
Next Steps
Tegile expands flash array platform
ICYMI: Tegile unveils first product
Tegile introduces lower-capacity arrays