Definition
unified storage (multiprotocol storage)
Unified storage -- sometimes called network unified storage or multiprotocol storage -- is a storage system that makes it possible to run and manage files and applications from a single device.
A unified storage architecture simultaneously enables storage of file data and handles the block-based I/O (input/output) of enterprise applications. To this end, a multiprotocol storage system consolidates file- and block-based access in a single storage platform compared to traditional arrays that contain either one or the other.
How unified storage works
Unified storage uses standard file protocols such as CIFS (Common Internet File System) and NFS (Network File System) and standard block protocols such as Fibre Channel (FC) and iSCSI (Internet Small Computer Systems Interface) to allow users and applications to access data consolidated on a single device. As its name implies, unified storage combines a variety of access protocols, such as server message block and NFS, and block-based protocols such as FC and iSCSI, allowing users access to consolidated applications and storage.
Benefits of unified storage
A single point of management and administration. Unified storage frees administrators from having to manage multiple sets of tools and pools of disparate storage.
Cost savings. Unified storage offers cost savings by enabling adopters to consolidate storage over an existing network.
Less hardware to maintain. Unified storage minimizes hardware needs by combining separate storage platforms, such as network-attached storage (NAS) for file-based storage and disk arrays for block-based storage, into a single device. This approach typically leads to streamlined and less costly maintenance, enabling staff members to turn their attention to higher priority projects.
Simplified scalability. With a unified storage system, storage administrators can rely on and make judgments via a single dashboard that shows how much free capacity remains across the entire storage pool.
Advanced features. Added features and functionality, such as replication and tiering capabilities, enable organizations to more effectively manage data across multiple platforms, including the cloud. Meanwhile, data encryption and access controls can reduce security risks by safeguarding both at rest and in motion.
Longer application lifespans. With unified storage, applications specifically developed for a particular storage category gain the ability to work with file-, block- and object-based data, even if the software was written to only work with a particular storage type. This highly useful attribute can extend a legacy application's lifespan without any need for recoding.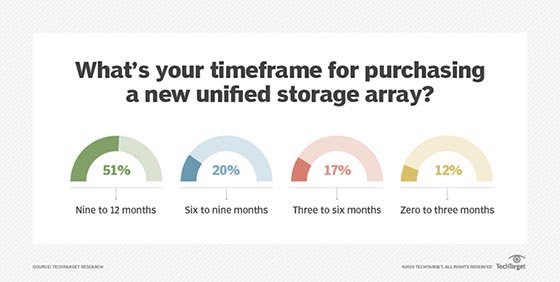 Drawbacks of unified storage
Performance issues. Unified storage often limits the level of control in file- versus block-based I/O, which can potentially lead to reduced or variable storage performance.
Not generally suitable for mission-critical applications. Block-based data tends to require higher I/O compared to file-level data, which is more random and takes a longer time to service requests. Therefore, mission-critical applications should continue to be deployed on block-based storage systems and not on unified storage.
Major unified storage vendors and products
Unified storage is evolving to include cloud and storage virtualization. For instance, cloud provider Nasuni offers unified file and data storage that combines on-premises systems with cloud storage, which works on object storage with centralized access.
Ericsson, targeting telcos, says it can provide telco-grade, unified storage platforms for subscriptions and network configuration, including policies, resource status and network slice status. The firm also reports that it provides associated provisioning and orchestration capabilities to ensure efficient data gathering and management.
Numerous large vendors dominate the block and file unified storage architecture, such as NetApp's cloud-integrated Unified Storage Architecture; and Dell Technologies offers a pair of unified storage systems: Dell EMC Unity XT All-Flash Unified Storage and Dell EMC Unity XT Hybrid Unified Storage. Dell also offers the EMC VNX unified storage series, which supports mixed workloads in physical and virtual environments, as well as the Dell EMC VMAX for consolidated, mission-critical applications. Hitachi Vantara has its Hitachi Unified Storage (HUS) series and HUS VM (virtual machine) platforms that use the vendor's own virtualization technology to deploy traditional storage along with object-based storage. The IBM Storwize Unified system works with virtual servers and supports cloud and analytics applications.
This was last updated in
September 2020
Continue Reading About unified storage (multiprotocol storage)