Getty Images
Future of storage lies in collaboration, unified management
Storage vendors throughout 2023 bet big on unified management and collaboration tools as what the market will want and what will help them stand out among the enterprise C-suite.
A company's next storage purchase not only copies and pastes data but also won't let employees accidentally delete files.
Storage vendors, from software-defined to those with a hardware component, are bolstering their catalog of offerings with new management and collaboration capabilities, particularly remote file sharing and cloud-like experiences.
Storage industry analysts see this as a play by vendors to expand brand awareness and catch the attention of the C-Suite.
Access speed increases through improvements to flash memory, alongside the availability of cloud object storage, have made hardware considerations less important when designing the storage stack, said Dave Raffo, an analyst at Futurum Group.
Instead, market winners will be defined by new and unique features built for specific enterprises or to preempt regulatory requirements.
"Storage was just about having a box," Raffo said. "Now it's about moving the data where it needs to be. It's an application-by-application decision where the data should go. Before, there'd be a storage administrator and team, [and they'd] pick the platform."
Feature creeps
Panzura, Ctera Networks and Quantum Corp. released new features and products in last two months that focus on differentiating themselves from each other and competitors in the storage management market.
Panzura Edge, the latest release by the software-defined storage vendor, enables users to create a software gateway for remote access to the CloudFS storage namespace. Panzura Edge adds file collaboration and security features to CloudFS to replicate a file-sharing experience like Box or Dropbox.
The vendor deliberately compared Panzura Edge to Box and Dropbox as potential vectors for business disruptions such as shadow IT and data exfiltration, which can lead to ransomware or other cybersecurity issues. The comparison isn't made lightly, according to Jill Stelfox, CEO of Panzura, as file collaboration and sharing tools need security and recovery features with the namespace controls offered by a file system.
She pointed to snapshots and user access controls as two features available in Panzura's platform alongside administrative data controls from the product's namespace capabilities.
Quantum similarly added new products with collaborative features and other single-namespace services as well new ways to use cloud cold storage services.
Quantum DXi Cloud Share, coming later this year, lets the vendor's DXi backup hardware appliance move and tier data into clouds of the customer's choosing. Quantum FlexSync 3, a data migration tool for the vendor's hardware, can now replicate into public and private cloud storage. Finally, Quantum ActiveScale Cold Replication adds immutable object storage replication across Quantum hardware as well as hyperscaler AWS S3 Glacier Flexible Retrieval and Glacier Deep Archive Services.
Ctera, like Quantum, has also focused on supporting hybrid cloud environments with the release of Ctera Fusion, a new capability for the Ctera Enterprise File Service Platform.
Fusion allows S3-compatible object data to read and write as file data within the same global file system as traditional SMB and NFS file systems. Doing so lowers the cost of storage for data ingestion into AI or machine learning programs without customers needing to copy file data into S3 buckets, according to the vendor.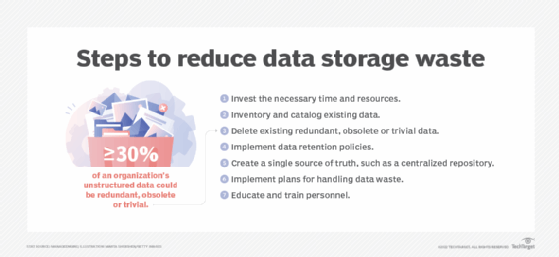 New solutions to a supposedly solved problem
As new storage products and features edge closer to cloud-like use and optimization duties, analysts said there's still headroom for these products to evolve.
Ray Lucchesi, founder and CEO of Silverton Consulting, echoed Stelfox's sentiment that governance and policy controls will become more important for storage platforms. Legal and industry regulations as well as proper data hygiene to protect against ransomware will result in more enterprises seeking out these controls.
Commvault, a data backup vendor, is implementing such policy controls into its products. Primary storage will likely follow suit, Lucchesi said. For collaborative capabilities, he noted vendors are now chasing the trail blazed by Hammerspace for single namespaces and metadata tagging.
Storage was just about having a box. Now it's about moving the data where it needs to be.

Dave RaffoAnalyst, Futurum Group
"Collaboration is all goodness, but what's the next step beyond that?" Lucchesi said. "In my mind, it's compliance. Like most organizations, if [enterprises get] into lawsuits, then legal holds will become more important."
Raffo said collaboration tools like Box's are now considered a common ask by storage customers, but capabilities to improve specific industry workflows could help vendors differentiate their products.
"One of the first questions [buyers ask] is, 'How is this different from Box?'" Raffo said.
He pointed to Vast Data as a company that has shifted away from selling storage hardware to selling software, targeting the publicly praised AI technologies that require fast storage to ingest and review data.
Most of these additions, even if they bring new capabilities to customers and storage teams, are ultimately about increasing brand visibility not only to CIOs but also to non-IT executives who control buying decisions, said Mike Matchett, founder and analyst of Small World Big Data.
"[It's] maybe changing who the buyer is internally for these companies," Matchett said "They want the business people to see [them]."
Investing in enterprise capabilities that require less oversight and management will ultimately drive IT decisions, said Scott Sinclair, an analyst at TechTarget's Enterprise Strategy Group.
Storage admins are already an endangered species. Maintaining complex storage infrastructure could have many turning to hybrid cloud and file sharing services more frequently rather than attempting to build on local hardware.
"There's so much pressure on internal IT teams that it's rare for an organization to have a [headcount] for storage," Sinclair said. "There's room for innovation, but the big headaches we have is how … [small teams] build something."
Tim McCarthy is a journalist from the Merrimack Valley of Massachusetts. He covers cloud and data storage news.