Getty Images/iStockphoto
Quantum containerizes file, object storage
In a shift for Quantum Corp., the vendor is now competing in the file and object storage market with its all-flash, software-defined, scale-out Myriad offering.
Quantum Corp. seeks to modernize file and object storage with a software-defined, container-based option to replace legacy scale-out NAS systems such as Dell EMC's Isilon.
Quantum Myriad is the company's new all-flash, scale-out file and object storage platform, which uses a cloud-native and microservices-based architecture so that the software can run on premises or in the cloud. The platform is also designed to take advantage of the higher levels of performance from NVMe and remote direct memory access (RDMA), according to the vendor.
Myriad joins a handful of new unstructured data storage offerings released in recent months, a response to the growing volumes of unstructured file and object data, according to Randy Kerns, an analyst at Evaluator Group.
"As AI enters more into the mainstream enterprise and beyond HPC [high-performance computing], a massive amount of data [will be generated], and it's all unstructured," Kerns said.
The unstructured data storage market is dominated by Dell PowerScale, formerly Isilon, but Myriad gives Quantum a chance to compete in the fast-growing market, he said.
Shifting markets, opening competition
Myriad is a bit of an unexpected product from Quantum, according to Steve McDowell, an analyst and founding partner at NAND Research. This is its first high-performance file and object storage offering.
"It's a big market expander for them," McDowell said.
Quantum can sell a [portfolio] that has object storage, ActiveScale; complete data placement and data management, StorNext; and now Myriad for file.

Randy KernsAnalyst, Evaluator Group
Quantum tends to focus on markets such as media and entertainment and surveillance, and will likely start targeting those industry verticals first, he noted.
"[Quantum] will play to its strengths, which are going to be some of these non-mainstream IT applications," McDowell said.
Kerns agreed, saying Quantum would likely focus the product on its existing customer base, such as those that use Quantum StorNext for data management and placement. Myriad, which rounds out Quantum's storage portfolio, could be a viable option when those customers are looking to replace their aging scale-out file and object systems.
"Quantum can sell a [portfolio] that has object storage, ActiveScale; complete data placement and data management, StorNext; and now Myriad for file," Kerns said.
Defined by software, deployed on hardware
Quantum has also designed the platform from the ground up to operate like modern software, using a cloud-based design that includes a microservices architecture orchestrated by Kubernetes. The platform is also built to take advantage of NVMe for speed and low latency, and RDMA on the back end to reduce data transfers between clusters, Kerns said. This new architecture enables Myriad to be higher-performing than currently installed NAS, particularly those that use spinning disks.
"A new design can be a lot simpler," Kerns said, adding that Quantum has built a system based on NVMe or RDMA rather than trying to bolt it onto an already-existing system. "Several lessons are learned, and you're not carrying any baggage going forward."
Myriad is software-defined storage designed to run on any qualified hardware. Quantum said it will be generally available in the third quarter of this year and ship on Quantum's NVMe storage servers and switches at launch. This decision is most likely a sales strategy, Kerns said.
"The majority of purchases are for complete, integrated systems," he said.
Storage vendors have been rolling out software and subscription services lately, but customers still want hardware, Kerns added.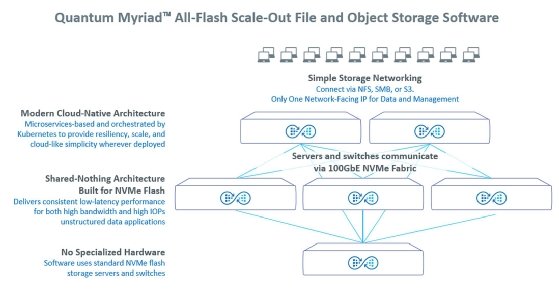 Containers and the cloud
Myriad software is composed of containers and uses Kubernetes for orchestration. Quantum said this design should enable portability between cloud and on-premises hardware, which is a step beyond other current offerings.
Myriad will be generally available as an appliance first, but its cloud-native architecture makes it cloud-ready.
Every enterprise today is a hybrid cloud, McDowell said. This architecture enables customers to run the same software stack on premises and in the cloud. As new hardware arrives, the containerized nature of Myriad makes it easier to adapt to that hardware.
"[Quantum's] ambition is to go much further than the product they announced today," McDowell said.
Adam Armstrong is a TechTarget Editorial news writer covering file and block storage hardware and private clouds. He previously worked at StorageReview.com.