Fotolia
New NVMe IBM storage for Spectrum Scale cuts install time
IBM introduces new NVMe-based flash storage system bundled with Spectrum Scale, enables Spectrum Discover to access backup date, and updates pay-as-you-grow pricing.
IBM Storage zoned in on artificial intelligence and big data with a new NVMe-based flash system that bundles its Spectrum Scale file management software.
The new Elastic Storage System 3000 comes preconfigured with IBM Spectrum Scale (previously called General Parallel File System). IBM containerized Spectrum Scale to enable customers to configure the system in two to four hours, according to Eric Herzog, chief marketing officer and vice president of world storage channels.
Customers already had an option to buy Spectrum Scale packaged with IBM storage hardware. But Herzog said that product, IBM Elastic Storage Server, took longer to install with a Power-processor-based server and attached external storage, in contrast to the self-contained Elastic Storage System 3000 array. IBM also sells Spectrum Scale separately as software that customers can deploy on standard hardware.
Randy Kerns, a senior strategist and analyst at Evaluator Group, said Spectrum Scale's parallel processing capabilities typically attract research organizations that are doing large-scale analytics and have in-house experts to put the system together. The Elastic Storage Server and new System 3000 open the door to customers deploying AI projects inside of IT, where time to deployment and administrative simplicity are more important, Kerns said.
All-NVMe flash storage
The new Elastic Storage System 3000 scales out with 2U building blocks. Each 2U enclosure can hold 12 or 24 NVMe flash drives, ranging from 1.92 TB to 15.4 TB, for a total system capacity of 23 TB to 370 TB. Performance scales linearly, with throughput starting at 40 GB per second with the 2U box.
"AI and machine learning in the enterprise is one of these workloads where everybody knows they want it. Everybody's doing experiments. But nobody knows how it's going to play out," said Steve McDowell, a senior analyst at Moor Insights and Strategy. "So when they look at storage, it becomes very much a scalability story first and foremost: 'Can I start small and build to where I want to go?' And I want to do that with the highest level performance I can, so all-NVMe makes tremendous sense."
The new System 3000 is built on IBM's NVMe-based FlashSystem 9100 array, uses 14-core Intel Skylake processors and supports InfiniBand and Ethernet networking. By contrast, the Elastic Storage Server has IBM Power processors and SAS-based flash drives. IBM said street pricing for the Elastic Storage System 3000 starts at about $100,000, with 23 TB of usable capacity.

Kerns said the competition for IBM Elastic Storage Server 3000 with Spectrum Scale includes Hewlett-Packard's Apollo Systems with WekaIO's Matrix distributed file system. Dell EMC Isilon would also compete to an extent, although Isilon doesn't support parallel I/O with a POSIX-compliant client, he added.
McDowell called IBM "a little bit ahead of the game" in AI and machine learning. He said only Pure Storage's FlashBlade comes close in delivering the multi-dimensional performance that's necessary for AI and machine learning across a cluster of arrays.
For data protection, IBM is adding a new Spectrum Scale Erasure Code Edition that will target hyperscalers running the software-defined storage in distributed production environments that require durability and reliability.
Steven Hill, a senior analyst at 451 Research, said the new Erasure Code Edition would offer Spectrum Scale customers a greater choice of data protection levels, relative to their performance and capacity needs. "Erasure coding is the logical evolution of RAID and offers a model for more externalized data protection, with parity options that can span whole storage systems rather than just a handful of drives within a storage node," Hill said.
More IBM storage updates
This week's IBM storage updates also extended to the Spectrum Discover metadata management software that can help customers index, catalog and gain insight into massive pools of unstructured data. Spectrum Discover will now be able to use backup data sets from IBM Spectrum Protect in addition to primary data from previously supported IBM, Dell EMC Isilon and NetApp storage products. Herzog said IBM plans to add support for additional backup products starting next year.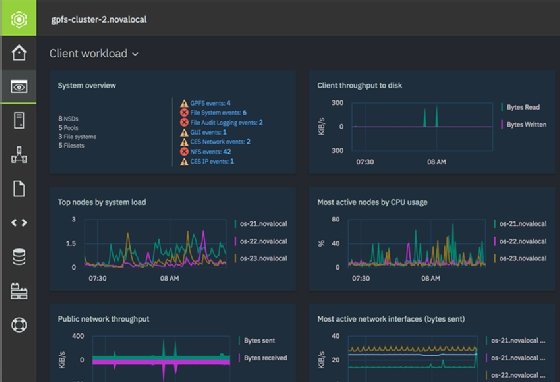 Kerns said users often tell him they want a single view of all their data. Although no complete solution is available yet, vendors are starting to address the issue, he said. Veritas offers similar capabilities to IBM with backup data through its information management suite, according to Kerns.
IBM also updated its "pay-as-you-grow" storage pricing options. Customers will now be able to cancel a storage subscription for IBM's FlashSystem 9100, Storwize V7000 and Elastic Storage Server without a fee any time after the initial 12 months. Subscription buyers pay a premium of 20% to 25% over IBM Storage Utility pricing to remove long-term commitment requirements. IBM also plans to add pay-as-you-grow utility pricing for software, starting with Spectrum Protect and later extending to other products.
Dig Deeper on Storage system and application software