Avere Systems Cloud-Core NAS (C2N)
Building on its NAS Edge filer technology, Avere rolled out Cloud-Core NAS (C2N) product, which puts file and object storage in one system that spans on-premises and the cloud.
Bronze winner in the Storage magazine/SearchStorage.com 2016 Products of the Year Disk and Hybrid Systems category.
Avere Systems took bronze award honors with its Cloud-Core NAS (C2N) product that spans drive types, storage tiers and protocols.
NAS acceleration vendor Avere Systems launched C2N to integrate private and public object storage with an organization's NAS infrastructure. C2N is a NAS system with a file system also built for object storage. Customers can manage file and object storage on-premises and in the cloud as one logical storage pool through Avere's global namespace.
Built on Avere's FXT Edge filer hardware, C2N starts at 120 TB of capacity and expands in 80 TB increments to 5 PB. It includes an all-flash performance tier ranging from 14 TB to 480 TB of solid-state drive capacity. The goal of the appliance, which migrates data to the cloud, is to integrate object storage into an existing NAS setup without having to rewrite applications or train staff to manage new technology.
CNS supports NFS and SMB NAS protocols. For data protection, it uses N+4 erasure coding and triple replication. The appliance caches active data on internal SSD and DRAM, and a C2N system can include up to 50 Edge Filers.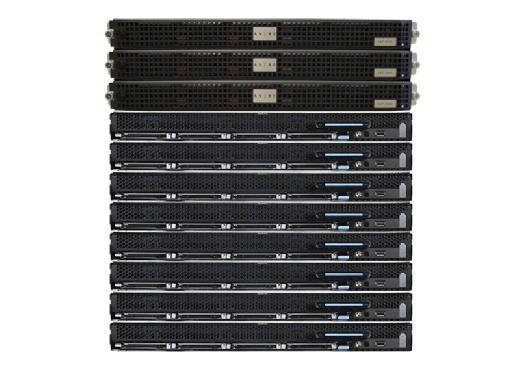 Avere Systems pitches C2N as a lower-cost alternative to scale-out NAS and on-premises object storage.
List price starts at $99,500 for 120 TB. A sample private cloud configuration of three FXT 5200 files, nine CX200 C2N nodes with 576 TB of usable capacity and DR across three sites would cost about $349,000, according to Avere Systems.
One judge called C2N an "interesting move to finally produce an on-prem product to complement the caching FXT. Underlying object store a good idea."
Another added: "C2N is a major release. It is a high performance scale-out NAS, cloud integrated storage, global file system, high performance AFA or hybrid, and more. Highly innovative."
Although not all of our judges were sold on price, C2N's performance and functionality impressed.
"The minimum config is expensive, but extremely capable," one judge said.
The Avere Systems FXT Series won a bronze in the disk systems category in 2009.
Next Steps
Avere announces C2N hybrid system
Avere Systems upgrades NAS acceleration software
Avere Virtual FTX Edge Filers install in the clouds