alex_aldo - Fotolia
Hitachi VSP boosts performance and analytics
Hitachi Vantara outfits new Virtual Storage Platform models with more and faster processors and memory, adds midrange arrays, but makes no NVMe promises yet.
Hitachi Vantara Corp. launched a performance-boosting update to its all-flash and hybrid Virtual Storage Platform...
Continue Reading This Article
Enjoy this article as well as all of our content, including E-Guides, news, tips and more.
systems, added new midrange arrays and beefed up its infrastructure analytics and IT automation software.
The Hitachi VSP upgrade includes rearchitected Storage Virtualization Operating System Resilient Flash (SVOS RF) software that streamlines the I/O path and improves resource handling. The changes will result in lower latency and more IOPS per core, according to Nathan Moffitt, senior director of infrastructure solutions marketing at Hitachi Vantara.
Moffitt said the new SVOS RF code also improves workload consolidation, enabling the Hitachi VSP to provide 2 1/2 times better data density, as much as eight times more storage volumes and 1 million snapshots. Other enhancements include faster data reduction and inline operations, along with DevOps support for Docker and Red Hat OpenShift container integration with Swarm and Kubernetes orchestration.
New 2U flash storage systems
The Hitachi VSP all-flash lineup will, for the first time, include a pair of 2U controller options -- the F350 and the F370. The entry point for the new VSP F350 is 1.92 TB, using four 480 GB SSDs, but Hitachi expects customers will choose 1.9 TB SSDs for a starting raw capacity of 7.6 TB for the system. The VSP F350 can scale as high as 2.9 PB with expansion trays, using 192 SSDs at 15 TB each and deliver 600,000 IOPS, according to Hitachi.
The midrange Hitachi VSP F370 provides higher performance in a smaller footprint than the 4U controller F400 model that it replaces, thanks to more and faster processors and memory. The F370 can provide as much as 1.2 million IOPS and a maximum raw capacity of 4.4 PB with expansion trays and 15 TB SSDs. Its cache memory size is 256 GB versus the 128 GB for the lower-end F350.
"We knew we could go after a broader range of deals if we had an all-flash offering that hit that specific price point range that allowed us to get to a more apples-to-apples comparison with other competitors in the market," Moffitt said.
The Hitachi VSP F350 and F370 midrange models join the new F700 and F900 all-flash arrays, the upgrades to the F600 and F800. Hitachi lists the maximum IOPS for the new F700 at 1.4 million and the maximum raw capacity at 13.1 PB with 15 TB SSDs from third-party vendors or 6.1 PB with Hitachi-built 14 TB flash module drives (FMDs). The F900 is capable of 2.4 million IOPS and a maximum raw capacity of 17.4 PB with third-party 15 TB SSDs or 8.1 PB with Hitachi FMDs.
Updated hybrid array lineup
The Hitachi VSP lineup of hybrid systems that mix SSDs and hard disk drives features new G350, G370, G700 and G900 models to replace the prior G200, G400, G600 and G800 arrays. The G200 was the only 2U system in the past.
The VSP G350's expected entry point is 2.4 TB of raw capacity, using four 600 GB HDDs. The system can scale to over 2 PBs with a combination of HDDs and SSDs. As with the all-flash VSP F370, the new hybrid G370 replacement model will supply higher performance and a larger memory cache than the 4U controller G400 system it's replacing. The G370 is capable of 1.2 million IOPS and 3.6 PB or more raw capacity, depending on the mix of HDDs and SSDs.
All new VSP models feature additional and faster processors and memory. With the hybrid G Series, customers can choose the amount of memory they want for the cache. The high-end, multicontroller VSP F1500 and G1500 are on a different update schedule and remain unchanged.
Data availability, efficiency guarantees
With the VSP updates, Hitachi Vantara is extending its 100% data availability guarantee to all product models and introducing a new 4-to-1 total-efficiency guarantee to ensure a return on investment. In the past, the company didn't offer the data availability guarantee on the low-end VSP G200 hybrid array. With the new total-efficiency guarantee, Hitachi will use a tool set to assess the amount of data a customer stores and the savings they can expect from data reduction and technologies such as snapshots, Moffitt said.
Hitachi also is extending the availability of its Foundation software package to all VSP hybrid models. The Foundation package was previously available only with Hitachi's VSP all-flash arrays. The Foundation software includes the Hitachi Storage Advisor wizard-driven management application, the Hitachi Data Instance Director (HDID) protection and copy management software, and the Hitachi Infrastructure Analytics Advisor (HIAA).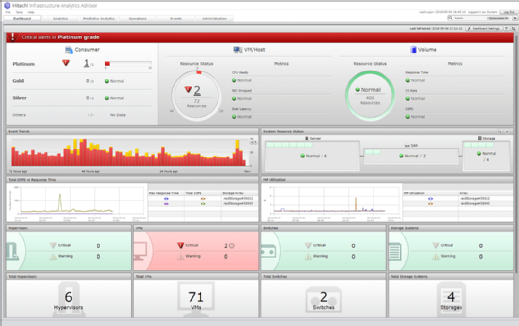 Hitachi updated HIAA with predictive analytics capabilities and a new heuristic engine to enable better forecasting of infrastructure needs and speed root-cause analysis of problems. HIAA grabs information from across the data path, including the hypervisor, server operating system, network and storage. The HIAA software then uses artificial intelligence and machine learning technologies to help customers keep their applications running at optimal speed, troubleshoot issues, determine new resource needs and plan their budgets.
"Predictive analytics can be a differentiator between competitors as well as a key value proposition for customers who want a single pane of glass for infrastructure and application visibility," Joseph Unsworth, a research vice president at Gartner, wrote in an email. "As new technologies, such as NVMe [nonvolatile memory express] and SCM [storage class memory], arise, having visibility into the infrastructure to identify issues that storage gets blamed for will be increasingly important."
Hitachi also enhanced the Hitachi Automation Director (HAD) to integrate with IT service management tools such as ServiceNow, improve REST API integration for third-party resources, and automate the setup of HDID data protection to guard against data loss or downtime.
Customers can buy HAD separately or as part of an Advanced software package that also includes the Global-Active Device metro clustering software for business continuity. Pricing varies by capacity and platform, and Hitachi is offering discounts.
The list price for the entry-level 7.6 TB VSP F350 with 36 months of standard maintenance and the Foundation software package is $70,480. The starting list price for the VSP G350 is under $50,000. Customers can add the Advanced software package to the VSP F350 or G350 for $9,300, Moffitt said.
"As flash prices continue to drop, small-to-medium enterprise will be buying more all-flash arrays, and it's good to have entries in that space to go after some of that business," Eric Burgener, a storage research vice president at IDC, wrote in an email. The new Hitachi VSP lineup isn't industry-leading in terms of performance or scalability, Burgener said, but the flash systems would compete well against the latest SAS-based offerings from other established enterprise storage vendors.
Hitachi's NVMe outlook
One of the hottest flash storage topics that Hitachi didn't address with its VSP upgrades is support for NVMe. Dell EMC, Hewlett Packard Enterprise and NetApp recently announced arrays that are capable of supporting the performance-boosting, latency-lowering NVMe technologies when they become more readily available.
Hitachi Vantara currently supports NVMe in its hyper-converged Unified Compute Platform HC product line and sees opportunities to introduce NVMe into new software-defined storage and enterprise storage products as NVMe matures over the next year, said Bob Madaio, vice president of infrastructure solutions marketing at Hitachi.
"More will follow, but it confuses the conversation to preannounce things that customers cannot implement today," Madaio said. He noted that Hitachi is looking at a number of ways to support NVMe, but hasn't "fundamentally made a call on the exact upgrade path we're going to pursue.
"The reality is we're finding a lot of FUD [fear, uncertainty and doubt] and confusion in the market," Madaio added. "NVMe fundamentally fixes performance, and customers don't have a concern with these systems on performance. We didn't want to get into it."