Luiz - Fotolia
ClearSky Data launches service for VMware Cloud on AWS
New service from Boston-based startup ClearSky enables VMware Cloud on AWS customers to back up and archive data in Amazon's object-based Simple Storage Service.
ClearSky Data launched a new service that will enable VMware Cloud on AWS customers to protect their data in inexpensive object storage.
The new ClearSky Data service gives VMware Cloud on AWS customers the chance to keep their existing backup applications and use Amazon Simple Storage Service (S3) as the back-end storage repository. The startup's software can transform the block- and file-based data from the certified backup applications to an object format to enable data protection and archiving in Amazon S3, according to Laz Vekiarides, CTO and co-founder of ClearSky Data.
VMware Cloud (VMC) on AWS users can choose certified backup options from vendors such as Commvault, Dell EMC, Druva and Veeam. But those vendors typically offer repositories in Amazon's Elastic Block Store (EBS). Commvault is the only certified VMC option to back up natively to Amazon's more economical object-based S3, according to Bryan Young, a group product manager of vSphere external storage at VMware.
"Customers are generally wed to their particular backup vendor. And they do not like to change because they want a common backup application across the enterprise," Young said. "But they also want the lowest cost storage for their long-term backups."
Extends on-premises virtual server environments
The VMware Cloud on AWS on-demand service lets customers extend their on-premises server virtualization environments to Amazon's cloud. The service is based on VMware Cloud Foundation, which integrates vSphere server virtualization, vSAN software-defined storage, NSX software-defined networking and security, and vCenter management software.
VMware Cloud customers create a virtual private cloud (VPC) to run their application workloads on vSphere VMs in Amazon Elastic Compute Cloud (EC2) bare-metal infrastructure. VMware's vSAN creates the local storage on SSDs in the host server cluster to keep the data.
"Part of the issue with the cloud inside of Amazon EC2 is that at any given point in time, if you decide to shut any of these [servers] down, all the data that's inside of them gets lost," Vekiarides said. "So, obviously, you need a place to keep all of your data when you're not using your VMware cluster."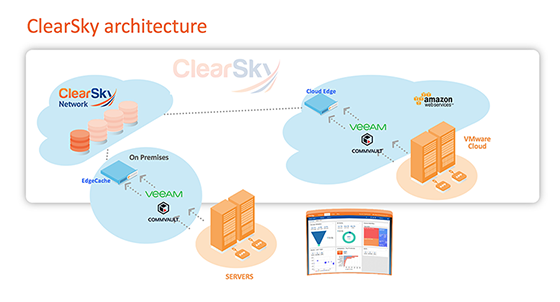 A third-party backup proxy runs in a VMware Cloud on AWS software-defined data center and copies data using the vSphere Storage APIs for data protection (VADP). The backup proxy copies data to an EC2-based backup repository that typically uses Amazon's EBS.
Cache 64 TB per backup volume
ClearSky's Cloud Edge appliance can connect to the backup application and cache up to 64 TB of data per VM guest-attached volume to enable fast access to frequently accessed data. Vekiarides said ClearSky can have many such volumes online, up to 4 PB total. On the back end, the Cloud Edge appliance connects to the ClearSky Data Network's Amazon S3 storage via AWS Direct Connect to protect and archive all the data.
ClearSky supports a recovery point objective of less than 10 minutes for point-in-time snapshots and a recovery time objective of less than a minute once the customer's applications are running.
In addition to the cloud-based deployment option, customers could run VMware virtual servers, third-party backup applications and ClearSky Edge Cache appliances on premises. The Edge Cache appliance's software would deduplicate and compress the data and convert it to object format for archiving in ClearSky Network's Amazon S3. The data from the on-premises Edge Cache and off-site Cloud Edge appliances would be stored in a common Amazon S3 repository.
ClearSky Data used the VMware Cloud on AWS service to build out a server cluster to test its new service. Vekiarides said ClearSky engineers made minor changes to the deployment software to ensure it works and meets performance targets in the AWS cloud environment.
Pricing for the ClearSky Data service ranges from 6 cents to 20 cents per GB, per month depending on the use case, quality of service and data capacity.
ClearSky Data does not charge fees for replication and customers do not incur AWS egress charges to restore their data, according to Vekiarides. He said egress charges generally do not apply because nearly all of the data is cached either inside AWS' cloud or somewhere in ClearSky's network.