hywards - Fotolia
ClearSky Data adds NAS storage as a service
Startup ClearSky offers new scale-up NAS option to extend hybrid cloud managed service offerings beyond block-based primary storage, backup and disaster recovery.
ClearSky Data has added NAS to its previous block storage and data protection hybrid cloud services.
The Boston-based managed service provider initially focused on block-based primary storage when it launched in 2015. ClearSky's SAN architecture is designed to cache the hottest data at the customer's site, keep warm data at third-party point-of-presence (PoP) data centers located within 120 miles, and tier cold data to public cloud-based object storage.
In 2017, ClearSky Data added automated backup and disaster recovery services.
Laz Vekiarides, a ClearSky Data founder and its CTO, said customers requested NAS support to securely manage large file workloads and maintain an off-site copy for disaster recovery.
"The original vision was to be able to replace on-prem infrastructure with a cloud-based architecture and make it seem as though your infrastructure's on prem when in fact it's running out of the cloud," Vekiarides said. "The unexpected turn was that when folks were buying ClearSky, we noticed early on that the reasons were not necessarily that we had that primary storage performance, although we did.
"What repeatedly pushed them over the edge was the fact that because it's cloud based, we have availability across multiple locations and we're network connected. It allowed them to do away with all of this secondary infrastructure that they used for data protection. They didn't have to pay for two copies of their data to do disaster recovery. They could access our service from two locations and pay for the copy once."
The ClearSky file storage update implements the NFS and SMB protocols in the same flash-based edge cache that it uses for block storage. That can be in a physical appliance at the customer site or a virtual appliance in Amazon Elastic Cloud Compute (EC2) I3. The edge cache appliances are located near the customer's compute instances for faster data transmission.
ClearSky uses dedicated high-speed Ethernet private lines to reduce latency between the customer site and the metro PoP site. The startup currently runs its own gear in rented racks at CoreSite colocation facilities in Boston and New York and Equinix data centers in Ashburn, Va., and Chicago. Customers using any of the same colocation centers can get their racks plugged directly into the ClearSky network.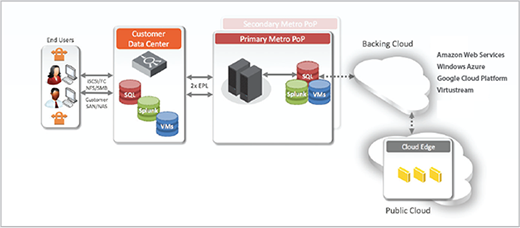 'Secret sauce' in middle-tier cache
Vekiarides said the middle-tier cache at the metro PoP sites is the "secret sauce" that enables ClearSky to deliver high-performance storage.
"It basically keeps your storage requests from going all the way out to the cloud on a data read. And what ends up happening is your latency is very low," he said, comparing the setup to a content delivery network such as Akamai, which is a ClearSky investor. Vekiarides said the middle-tier cache also helps to minimize data egress charges from public cloud storage providers.
George Crump, founder and president of Storage Switzerland, said it would be critical for ClearSky to continue to add regional cloud service providers to deliver the warm-site capability. He said IT customers would need to test and vet not only the startup's software but also the capabilities of the regional providers.
"Most hybrid cloud solutions leverage a public cloud provider as the storage behind the cache," Crump wrote in an email. "The problem is that there is a lot of latency with this approach, making the solutions unusable for active data. ClearSky's approach reduces the latency to the point that hybrid cloud becomes viable for active data."
He added that the new NAS capabilities would broaden the use cases to customers dealing with unstructured data capacity problems, including media and entertainment companies and organizations with internet of things projects.
Crump said ClearSky Data's competition includes all primary storage providers, as well as cloud NAS players such as Nasuni and Panzura.
Customer demand for NAS support
Vekiarides said healthcare customers are especially interested in features such as end-to-end encryption and integration with Kerberos, Microsoft Active Directory and other authentication services. ClearSky NAS also provides auditing control and supports user and group policies for storage allocation. Customers oversee their storage through ClearSky's web dashboard.
"Many of these workloads that we're taking on are very large, and they're very difficult to protect and back up. Because you have hundreds of terabytes and into the petabytes of scale, having some form of disaster recovery for these data sets is very difficult and very expensive and unwieldy," Vekiarides said. "ClearSky essentially does that as part of our core service."
ClearSky Data charges the same price for primary storage, backup and disaster recovery and handles the storage and networking infrastructure and public cloud storage setup. Monthly pricing starts at 15 to 20 cents per GB and can drop as low as five cents per GB, depending on the performance and amount of data stored, according to Vekiarides.
ClearSky Data block storage customers can get the new NAS capabilities through a software upgrade. The startup currently has about 20 medium- to large-sized enterprise customers that span the healthcare, financial and technology industries, Vekiarides said.
For backend object storage, ClearSky Data supports Amazon, Google, Microsoft and Virtustream public clouds.
Vekiarides said ClearSky Data plans to add Cloud Edge cache options similar to the one it introduced for Amazon EC2 I3 instances in 2017. The Cloud Edge cache for hot data uses ultra-fast nonvolatile memory express (NVMe) solid-state drives (SSDs). He said Cloud Edge cache options are planned for Microsoft Azure and Google Cloud Platform.