Providers continue to push hybrid cloud technologies in 2018
The hybrid cloud market changes rapidly, as major cloud providers release new services to bridge private and public platforms, but for now, management challenges remain.
Traditionally, when an enterprise planned a hybrid cloud deployment, it typically chose either OpenStack or VMware as the foundation for its private cloud and then paired it with the public cloud provider of its choice. However, this required IT teams to learn and manage at least two distinct cloud platforms.
Fast forward to today, and the hybrid cloud picture has changed. Amazon Web Services (AWS), Azure and Google now see the financial opportunity around on-premises environments -- a shift that will result in several new, or revamped, hybrid cloud technologies in 2018.
Azure Stack
The first, and perhaps most elegant, hybrid cloud technology enterprises will pursue this year is Azure Stack. Microsoft has seen its strong foothold in the enterprise market translate into a preference for its Azure public cloud, especially given its integration with on-premises Windows Server clusters. Azure Stack takes that idea one step further, serving as the basis for an enterprise's in-house, private portion of a Microsoft-centric hybrid cloud.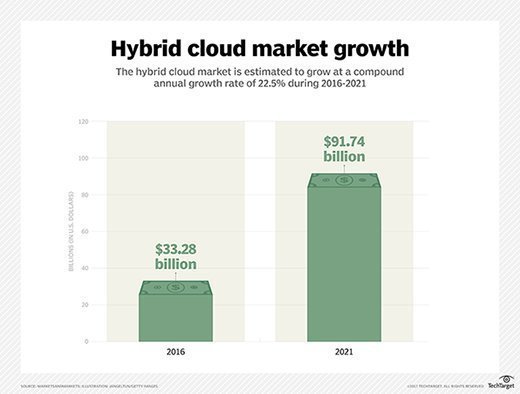 At maturity, which may take a while, Azure Stack will provide more seamless control across private and public clouds and give on-premises environments direct access to a rich set of public cloud services, including AI, databases and analytics.
VMware Cloud on AWS
AWS, the public cloud giant that traditionally dismissed the idea of private cloud computing, struck up a deal with VMware in 2016 to extend vSphere control onto AWS. Last year, the two vendors formally rolled out VMware Cloud on AWS.
The service enables the huge VMware installed base to maintain its on-premises investments, expand to the AWS public cloud and centrally manage that hybrid infrastructure.
Like Azure Stack, VMware Cloud on AWS can tap into a large and receptive installed base.
AWS and VMware still have work to do, however, to match Azure Stack. VSphere access to the richest set of data services in the cloud business -- those from AWS -- will take time to develop. And it will also take time for the two vendors to align their roadmaps and iron out any conflicts or overlaps in their software. Expect further effort to bridge VMware and AWS technologies, with more integration around services such as load balancing and security.
And, like Azure Stack, VMware Cloud on AWS can tap into a large and receptive installed base.
Google Cloud Platform
Google has also evolved its hybrid cloud technologies, increasing support for OpenStack and partnering with Red Hat. While some OpenStack services are still relatively immature, Google's financial clout could make this pairing another strong contender in the hybrid cloud market.
Oracle and SAP
There are several other vendors that target hybrid cloud deployments. Most notable is Oracle, whose engineering teams have focused on increased storage efficiency and more seamless integration across on-premises and cloud environments. SAP is on a similar path, and perhaps we'll see one or both of these companies move to a service subscription model over the next two years.
Google could capitalize on more recent software paradigms to offer an attractive, open and agile hybrid cloud environment within the next couple of years. The vendor has also crafted a solid roadmap focused on performance, as well as AI and machine learning services.
Hybrid cloud gaps remain
Despite these advancements in hybrid cloud technologies, there are still some holes. For example, cross-cloud storage performance remains critically limited because of insufficient WAN bandwidth and long latencies. For now, the best ways to mitigate these issues include caching gateways and predictive software.
Data compression, as a way to save on storage space, is also an option, but its real value is reducing the bandwidth required for WAN transfers. Solid-state drives (SSDs) provide an excess of I/O performance that you can use to compress data in near-real time. And with SSDs now cheaper than enterprise hard disk drives -- and likely to be less expensive than SATA nearline HDDs in 2018 -- it makes sense to make your private cloud all-flash.
Finally, the latest security debacle with Intel will have an impact on the hybrid cloud market throughout 2018. Older servers could run as much as 30% slower with the required software patches to fix the Meltdown and Spectre flaws. Servers more than a year or so old are especially vulnerable. So, it's likely that the pace of server replacement will pick up dramatically, and vendors could position that new hardware for more efficient hybrid cloud technologies.