darren whittingham - Fotolia
Languishing Vexata storage gets bailed out by StorCentric
Roll-up company StorCentric expands its storage holdings with Vexata storage arrays for NVMe flash. The Vexata deal follows the June acquisition of backup software vendor Retrospect.
StorCentric is becoming a home for storage misfits.
One week after picking up Mac backup software specialist Retrospect, StorCentric increased its holdings on Tuesday with the pickup of struggling NVMe flash startup Vexata Inc. The move comes weeks after two top Vexata storage executives left the company amid reports of layoffs and an inability to raise additional investor funding.
Vexata is the fourth storage vendor consolidated by StorCentric, a roll-up firm created by the merger of disk vendors Drobo and Nexsan. The undisclosed transaction price includes the Vexata VX-100 rack-scale array and software stack.
Technically, Vexata was acquired by hybrid SAN maker Nexsan, under the StorCentric umbrella. About 15 Vexata employees are expected to join StorCentric, including CTO Surya Varanasi and COO Surya Turaga.
Vexing times for Vexata
Vexata designed its storage to replace traditional Fibre Channel (FC) SCSI block storage. The Vexata storage plugs directly into FC networks without application changes. That approach to market put Vexata head-to-head with legacy vendors, more so than competing Ethernet-based NVMe startups.
Vexata claimed its customers include the Australian Department of Defense and National Payments Corp. of India. Varanasi said Vexata did "spectacularly well" targeting databases for online transaction processing and was "making inroads" into serving relational databases. Despite the recent wins, Vexata struggled to convert enough pilot projects into paying customers to stay afloat independently.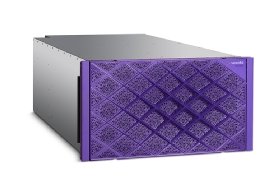 Varanasi said he hopes access to Nexsan's established channel will expand the appeal of Vexata storage.
"We target the hardest applications that have people's mission-critical data. Many times, those people would say to us, 'We need your level of performance, but as a startup, will you be able to survive?'" Varanasi said. "That was one of the challenges we faced when selling. The calculation to become part of a larger and more nimble organization made perfect sense."
Varanasi and Zahid Hussain founded Vexata in 2013. Both previously served as executives with EMC and VMware. In 2017, Vexata jumped into a hot -- yet still developing -- market for non-volatile memory express flash storage. The Vexata VX-100 array is based on a Super Micro Computer motherboard and Vexata's custom cut-through router, implemented via a series of field-programmable gate arrays.
Vexata storage brand, engineering to remain independent -- for now
StorCentric said Drobo, Nexsan, Retrospect and Vexata will operate as independent engineering groups. That may be a short-term strategy, but StorCentric likely will need to integrate the different storage brands, said Eric Burgener, a research vice president for storage at IT analyst firm IDC.
"I can't imagine, in the long run, that they're going to continue to operate them as independent companies. That's not going to lead to revenue growth. What will lead to revenue growth is the opportunity to synergistically integrate those companies and produce a one-plus-one-equals-three kind of thing," Burgener said.
Gaining access to the Nexsan channel is potentially valuable, "but it's unclear if those channel partners have the skill set to sell NVMe," Burgener said.
The StorCentric companies sell to different storage customers. NVMe is an enterprise play, allowing an application to send commands to storage devices across PCIe, eliminating the network bottleneck associated with SCSI host bus adapters. Drobo, Nexsan and Retrospect primarily sell storage to small and midsize firms. The addition of Vexata storage allows StorCentric to approach larger enterprises, said Mihir Shah, CEO of StorCentric.
Nexsan arrays provide disk storage and systems that use SSDs as a cache. Shah said Vexata's NVMe arrays complement Nexsan hybrid storage for high-performance verticals in finance, healthcare and media.
"The markets StorCentric participates in are growing, but at a relatively low rate. We started to think about what we could do that plays into our verticals and our support to get from low single digits to high double-digit [growth]," Shah said.