michelangelus - Fotolia
StorCentric enters data management with Data Mobility Suite
StorCentric's Data Mobility Suite helps customers manage and move data across heterogeneous storage environments. It is entering a market space with stiff competition.
StorCentric's new Data Mobility Suite actually makes data management less storage-centric.
On Tuesday, StorCentric launched Data Mobility Suite (DMS) storage-agnostic data mobility and management software. The tool lets customers manage data across heterogeneous storage environments. Customers can migrate, replicate and synchronize unstructured data across multiple data center or cloud storage environments. DMS supports a wide range of storage, including Pure Storage and Dell EMC for storage arrays, AWS and Wasabi for public cloud and Cloudian and MinIO object storage for private cloud.
StorCentric DMS software is deployed as a virtual machine or in a standard server and accesses a customer's storage like a normal client -- no agents are installed in the storage. The storage administrator picks out what data they want to manage through the DMS user interface, gives permissions to access the storage and defines the migration policies, and then DMS performs the migration in the background. DMS is optimized to scan and move files from the source non-disruptively.
StorCentric CTO Surya Varanasi said he is aware that other vendors in the data management market can similarly scan and move data in a storage-agnostic, non-disruptive way. He listed off Komprise, Datadobi, StrongBox and LucidLink as DMS' competitors. Nevertheless, he said it's an underserved market, and many of StorCentric's current customers are stuck on their old storage systems and looking for a simple way to migrate to new storage.
"We have a lot of customers that are still using tape. Going from tape to S3 is a common use case," Varanasi said of StorCentric's media and entertainment customers.
StorCentric owns storage vendors Drobo, Retrospect, Nexsan and Vexata, and usually launches products and updates through those brands. DMS is the first product sold under the StorCentric brand. DMS software is sold on a subscription license, but Varanasi said plans to offer DMS as SaaS are in the works.
Marc Staimer, president of Dragon Slayer Consulting, said DMS is important because it shows where storage is headed. The need to migrate data has grown beyond just hardware refreshes thanks to the cloud, and with it came the need to manage data across heterogeneous storage environments. Staimer said the data management task has been trending away from storage systems, and this release from StorCentric indicates it has picked up on that trend and created a tool that abstracts data management from the underlying storage.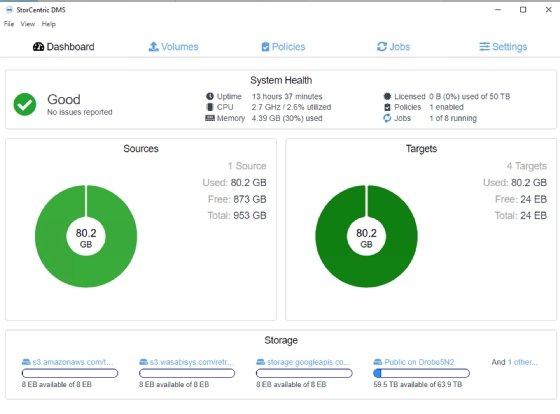 "They recognize the move to separate data management from storage. They're going in the right direction," Staimer said.
Scott Sinclair, senior analyst at Enterprise Strategy Group (ESG), said moving data across disaggregated environments is a pressing problem, and there has been a shift in how to tackle it. Sinclair described that data migration in the past was approached in a "storage-centric" manner, as most storage products have native capabilities for moving data to and from them. However, few companies use the same storage vendor across their entire infrastructure, so each storage repository would have different mobility tools that weren't compatible with each other.
Sinclair said the emergence of vendors such as Komprise and StrongBox represented the shift from the storage-centric approach to data movement to more "data-centric" approaches. These data management tools do not care about the underlying storage and only about the data, and can therefore offer greater scalability and choice of storage. Sinclair said there are a handful of vendors serving this need, and the rise of new ones indicates the space isn't saturated yet.
"The rise of vendors means the need is prevalent. We're still waiting to see in this space to see who can take the lead," Sinclair said.
Sinclair added that the storage industry may have reached a tipping point where organizations don't have the man-hours to perform migrations manually. Citing an ESG study on IT spending intentions, he said one-third of respondents said they don't have enough architecture expertise, and this may be fueling investment in data management tools. With this growing demand, Sinclair said he wouldn't be surprised if all the data management vendors can enjoy a successful amount of business without running into each other.
Dig Deeper on Storage architecture and strategy