Dell Apex launches data storage, cloud as-a-service options
Dell's new Apex data storage and cloud services take aim at HPE GreenLake and other as-a-service options that bring the public cloud operating model to on-premises infrastructure.
Dell Technologies drove its stake into the emerging storage-as-a-service turf wars with the official launch of the Apex portfolio the company previewed six months ago.
The Project Apex initiative unveiled in October at Dell Technologies World 2020 transformed into the Dell Apex as-a-Service portfolio with Wednesday's release of data storage, hybrid cloud and private cloud options. Dell trumpeted Apex to kick off its 2021 virtual flagship conference, just a day after Hewlett Packard Enterprise bolstered its GreenLake as-a-service lineup.
Dell Apex and HPE GreenLake, which launched in 2017, compete in the as-a-service market that offers enterprises the chance to buy, deploy and manage on-premises infrastructure and data services in roughly the same way they can in the public cloud. Rivals include NetApp Keystone, Pure Storage's Pure as-a-Service, Cisco Plus and Lenovo TruScale.
For the major storage players, the as-a-service offerings open an avenue to try to reverse the declines in on-premises storage infrastructure revenue they've experienced as customers shift workloads to cloud providers such as AWS, Microsoft Azure and Google.
IT organizations often spend months planning for capital expenditures and setting up systems, but the new consumption- and subscription-based as-a-service options can help to reduce that window to weeks, if not days. The shift to an operational-expense model lets them pay only for the infrastructure they use or the services their vendors and their partners manage.
"For Dell, this is a long-term bet on building a more predictable as-a-service revenue stream to replace the lumpier product-oriented CapEx acquisition model they are known for," said Matt Eastwood, a senior vice president at IDC. "For the customer, they get more choice, and they get an IT partner that is equipped to meet them where they are in their hybrid cloud journey."
Shift to consumption-based IT
IDC research suggests the pandemic has accelerated the shift to consumption-based models for IT investments to improve business agility, Eastwood said. A 2021 survey of more than 700 IT pros showed more than 60% planned to pay for technology based on consumption.
Eastwood envisions Dell Apex holding the greatest appeal for especially large customers with complex, multi-vendor environments and SMBs that favor the simplicity of buying standard services.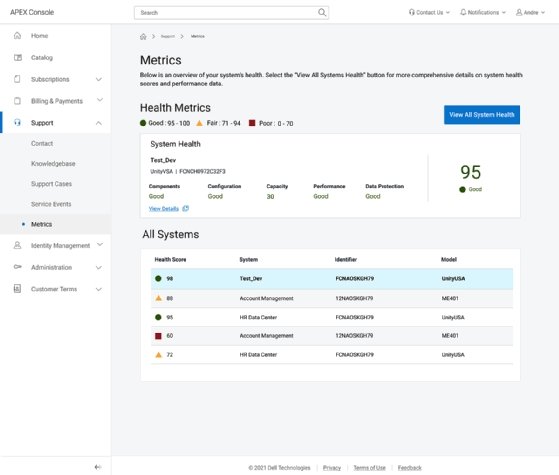 "The midmarket is where I believe there will be the most reluctance initially. They will come around over time, but they are not typically the earliest adopters of any new technology," Eastwood said.
Deployment time with Apex
Customers can deploy Apex IT resources in 14 days and expand their Apex footprint in five days, according to Dell. They can order, monitor and manage their systems, services and usage in self-service fashion through Dell's Apex Console.
Apex Data Storage Services offer three performance tiers for Dell EMC PowerStore block and PowerScale file storage that customers can deploy in their own data centers or colocation facilities. Capacity starts at 50 TB. One- or three-year subscriptions are available in the U.S. through Dell or a partner's referral, with global expansion to follow later in the second quarter.
Dell's Apex Cloud Services that combine compute, storage and networking resources are now available in the U.S., U.K., France and Germany. Pricing starts at $47 per instance, per month for Apex Hybrid Cloud with VMware Cloud Foundation on VxRail. Apex Private Cloud, with VxRail and VMware virtualization, starts at $25 per instance, per month.
Additional Dell Apex Custom Solutions include Flex on Demand and Data Center Utility. Apex Flex on Demand can provide PowerEdge servers, storage, data protection, hyper-converged infrastructure and converged infrastructure as a service to customers who need to scale resources up and down. Data Center Utility enables custom metering and managed services across a data center.
Apex is a big initiative for Dell and a bellwether for the hardware industry at large.

Tracy WooForrester Research
"Apex is a big initiative for Dell and a bellwether for the hardware industry at large," said Tracy Woo, a senior analyst at Forrester Research. "Its success or failure will be a good indicator of whether companies in the hardware business can succeed in an increasingly cloud-native, software-defined world."
Woo said nearly every technology vendor has some sort of storage-as-a-service offering that plays into a hybrid cloud strategy to create a consistent experience for customers across public, private and edge locations. Even cloud providers like AWS, Azure and Google have hybrid/edge options with Outposts, Stack and Anthos respectively, she noted.
"One thing we do know is the role of the data center is diminishing. Increasingly, we'll see the role of cloud and edge grow," Woo said. "While AWS currently dominates the public cloud market, the edge side is still up for grabs. Dell has the right tools and audience to take that space."
Woo said Dell's on-premises delivery depends on a big supply chain of other vendors and can't compete with public cloud infrastructure providers on delivery speed. But she said a major plus for Dell is its collaboration with Equinix, one of the largest colocation providers.
Through its partnership, Dell can manage infrastructure in the Equinix data center of a customer's choice and combine colocation costs into a single bill. Equinix operates in more than 200 data centers across five continents, according to Dell.
"The Equinix piece is very interesting. It opens up a lot more flexibility to give you a very public cloud-like model yet still be totally in control," said Bob O'Donnell, president and chief analyst at Technalysis Research. "For companies that have particular workloads that may be impossible to move to the public cloud because of regulatory, regional or performance requirements, having more points of presence located closer to where their offices may be or where the data is being used is very important."
Dell also announced an upgrade to the Dell EMC Streaming Data Platform to bring real-time analytics to edge deployments and a new manufacturing edge reference architecture with PTC to help customers make better use of data they collect from workstations, computers, mobile devices and other endpoints to improve operations.
Carol Sliwa is a TechTarget senior writer covering storage arrays and drives, flash and memory technologies, and enterprise architecture.