Klemsy - Fotolia
HPE storage hones cloud focus with new array, data console
HPE has sharpened its cloudlike operations approach with a new Alletra storage array, management console and cloud data services available by consumption and subscription options.
Hewlett Packard Enterprise has introduced a new Alletra storage system, management console and data infrastructure services that enable customers to operate on premises in much the same way they can in the public cloud.
The "Unified DataOps" strategy that HPE outlined today focuses on reducing the complexity of deploying, managing and upgrading storage infrastructure and streamlining data access, protection, visibility and mobility from the edge to the cloud.
The simplification mantra extends to the procurement options for the new Alletra storage arrays, Data Services Cloud Console and cloud infrastructure services that will become available this month. Customers can buy Alletra outright or get it through the pay-per-use GreenLake model that HPE launched in late 2017. HPE GreenLake offers consumption, subscription and managed service choices.
Launched on eve of Dell Technologies World
HPE is not the only major storage vendor to offer "as-a-service" and public cloudlike operations alternatives in the face of increasing competitive pressure from AWS, Microsoft Azure and Google Cloud. HPE elected to launch its new data services platform on the eve of Dell Technologies World, where an archrival will talk up its as-a-service Apex alternative.
"At the end of the day, both companies are responding to what IT organizations want," said Scott Sinclair, a senior analyst at Enterprise Strategy Group. "Customers want that cloudlike management experience on premises."
Infrastructure environments are becoming disaggregated and dispersed across hybrid cloud and multi-cloud environments with the launch of new applications and massive growth of data, Sinclair said. IT organizations must confront the increasing level of complexity at the same time business leaders are pushing them to accelerate operations, he added.
"Now, when I have conversations, I hear, 'How can I offload as much activities as I possibly can to the vendor? How can I speed this up? How can I leverage AI and automation to accelerate?'" Sinclair said. "Both HPE and Dell are well positioned to meet these needs of IT organizations that are growing right now."
Alletra's cloud model
The new Alletra storage systems illustrate how the HPE's cloud operational model will work. HPE's Alletra 9000 and 6000 are based respectively on HPE's Primera and Nimble arrays. The major differences are Alletra's support for all-NVMe flash storage configurations in the base chassis and expansion shelves, as well as their use of the new Data Services Cloud Console to manage the systems.
Users simply plug in the power cable, connect to the network and the HPE software can automatically discover and activate the storage device within the customer's account through the Data Services Cloud Console, according to the company. They can apply a predefined configuration to add new Alletra systems.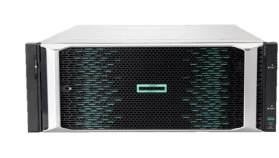 The console's automation could save weeks of planning and work within large organizations, said Ashish Prakash, vice president and general manager of the cloud data services team at HPE Storage. It can also push new features and upgrades automatically or with administrator oversight, according to HPE.
HPE is offering a Data Ops Manager to let users manage their data infrastructure from any location or device. An intent-based provisioning service will enable customers to set up systems on demand in self-service fashion. They can specify the application type and desired service levels, and the console's AI-driven intelligence takes over.
Tom Black, general manager of HPE's storage business group, said the cloud console would expand in the quarters ahead with a "rolling thunder of capabilities."
HPE uses Aruba, InfoSight technology
The new Data Services Cloud Console is based on HPE's Aruba Central engine, which provides AI-driven insights, workflow automation and security for managing branch, remote and data center networks from a single dashboard. Another key enabling technology for monitoring and alerting is HPE's InfoSight predictive analytics platform.
The console's unified API gives developers access to infrastructure and data. This is the most important addition for HPE customer Iland. The Houston-based cloud service provider is a heavy user of HPE storage, with at least 100 PB in Nimble systems. HPE plans to add support for the Data Services Cloud Console in Nimble and Primera systems at a later date, according to company officials.
Customers want that cloudlike management experience on premises.

Scott SinclairSenior analyst, Enterprise Strategy Group
"For us, it's going to be a big deal because it's going to allow us to do automated deployments for test drive and production," said Dante Orsini, senior vice president of business development at Iland. "We've scripted some of that today, but it's done on a node-by-node basis. So, having a single API to write to gives us access to the entire fleet of arrays."
Another plus for HPE customers with the new Data Services Cloud Console is a faster and reactive technical support system to diagnose and prioritize issues. Support staff will receive information and feedback from the console, allowing turnaround times of 30 minutes for priority support, according to HPE.
But simplifying infrastructure management and improving support aren't the only objectives of HPE's Unified DataOps strategy. The company also hopes to help customers make better use of the data they've been accumulating. Organizations use only 38% of their data on average, according to Phil Goodwin, a research director at IDC.
"HPE is extending beyond data storage into data management," Goodwin said. "As more organizations complete digital transformation projects, they are becoming more data-driven in order to increase competitiveness, improve operations or control costs. Vendors who enable better data leverage become more strategic partners for organizations."
Enterprise Strategy Group is a division of TechTarget.