spainter_vfx - stock.adobe.com
Aruba Central touches more devices, gets better analytics
A new version of Aruba Central will include features for managing as many as 50,000 network devices from the cloud. The upgrade also includes better analytics for troubleshooting.
Aruba enterprise customers will soon have the option of using the company's cloud-based Central software to manage a wireless LAN of tens of thousands of access points. On a more limited basis, Aruba Central will also manage the network's wired infrastructure.
The Hewlett Packard Enterprise company introduced this week an upgrade to its Central management console for access points (AP), switches and gateways. A critical component of the announcement is a new cloud-based network controller capable of managing a maximum of 50,000 devices. Within 12 months, the company plans to double the number to 100,000 devices per customer.
The use of the cloud-based controller is not mandatory. Businesses can retain their on-premises controller, said Patrick LaPorte, senior marketing director for the Aruba cloud. However, those organizations will not have access to the company's new network analytics, called AI Insights.
Aruba customer Mitchell Technical Institute (MTI) has 100 APs that it manages with an on-premises controller and the vendor's ClearPass software for network access control. Depending on the cost, the Mitchell, S.D., school would consider switching to Aruba Central, said David Boos, director of technology at MTI.
"I'm willing to pay a little more, but not a ton more," Boos said.
Aruba plans to offer the Central upgrade next month. In October, the company will release AOS 10, a new access point operating system designed for the cloud-based system. The cloud controller will also work with APs running AOS 8 or higher, LaPorte said.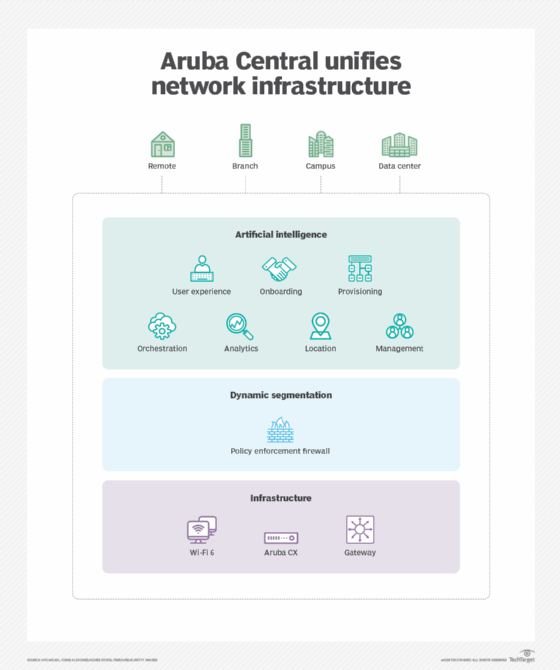 Aruba ATM Digital
Aruba unveiled the new technology in press briefings before its ATM Digital conference, which started Tuesday. The company's focus on cloud-based management and analytics for the wireless LAN reflects a longtime trend in the industry. Cisco entered the market in 2012 with the acquisition of Meraki. More recently, Juniper Networks became a provider of cloud-based Wi-Fi with the 2019 purchase of Mist.
Aruba's cloud-based system is an alternative to running the vendor's on-premises controllers, which operate a maximum of 2,000 devices each. To manage more hardware, customers have to add controllers and, depending on the amount of gear, might have to add a master controller.
Initially, all the management features in the new Central won't be available for Aruba switches running its AOS-CX operating system. Companies will be able to monitor all switching functionality, but changing configurations will be a two-step process.
Customers will have to create a configuration template first and then install it in the hardware. Companies using Aruba's older AOS switches will be able to skip the template step and configure the devices directly from Aruba Central, LaPorte said. Aruba will provide more advanced management capabilities for its CX switches over time.
Aruba is banking on its CX switches to challenge Cisco's dominance in campus networking. In 2019, Aruba introduced an AOS-CX upgrade and new switches that together covered access, aggregation and core switching for the campus.
Eventually, Aruba plans to toss the separate operating systems for its APs, switches and gateways and run all hardware on AOS-CX, LaPorte said.
What's in AI Insights
Aruba's AI Insights represents a significant push into predictive and prescriptive analytics, mostly for troubleshooting and fixing Wi-Fi performance issues. The cloud-based software is a combination of the new analytics and Aruba NetInsight, a Wi-Fi performance monitoring application.
Like other networking vendors, Aruba is providing more remediation features to reduce the workload of network operators, said Brandon Butler, an analyst at IDC. "They allow you to offload some of the day-to-day management."
For example, Aruba's new Wi-Fi analytics can help with radio frequency management. If too many devices are connecting to an AP on the 2.4 GHz band, then AI Insights will suggest lowering the transmit power (dBm), while increasing it on the 5.0 GHz band. That will leave the lower frequency for devices that can connect to only a 2.4 GHz radio, LaPorte said.
In the fall, Aruba plans to add automation features to Aruba Central, so, for example, Wi-Fi managers could choose to let the software adjust transmit power, LaPorte said.
To start, AI Insights will provide only limited intelligence on Aruba switches. "Initially, some of these will be fairly lightweight," LaPorte said. "There won't be a ton of capabilities, but that will grow over time."
Immediate features include, for example, monitoring the amount of electricity APs are drawing from switch ports. APs often fail when they exceed the available power.
Finally, Aruba launched a Developer Hub site for documentation on integrating an Aruba product with third-party technology. Eventually, Aruba wants to add a messaging platform for user discussions and code sharing.