NetInsight enables proactive network performance monitoring
With NetInsight, network performance monitoring and analytics get smart. The cloud-based subscription service tells customers how their Wi-Fi stacks up and exactly how to improve.
President Theodore Roosevelt famously branded comparison "the thief of joy," but he never managed a wireless network. By comparing the performance of similar peer networks across its customer base, Aruba's NetInsight gives networking pros insight into whether their own Wi-Fi is underachieving and, if so, how to proactively fix it.
This next-level network performance monitoring and analytics tool -- the latest winner of TechTarget's Network Innovation Award -- currently collects anonymized data from around 300,000 user access points (APs), according to Sujatha Mandava, senior director for network analytics at Aruba, a Hewlett Packard Enterprise company.
Using machine learning, NetInsight groups similar Wi-Fi environments and compares their performance, offering individualized configuration recommendations based on its analysis.
Optionally, the tool can also automatically make recommended, closed-loop changes and report them via the online dashboard. Mandava said NetInsight has subscribers from an array of verticals, including primary and secondary education, higher education, healthcare, hospitality, high tech and more. We spoke with her to learn more.
Editor's note: This interview has been lightly edited for length and clarity.
What high-level problem does the Aruba NetInsight software solve?
Sujatha Mandava: When you deploy Wi-Fi, how do you know if you have the optimum configuration for a good end-user experience? Wireless itself is now table stakes -- people expect it to just work -- and it's all-pervasive. Device numbers are growing like crazy and will continue to increase with the rise of IoT. But IT teams are still small, so they need network performance monitoring tools that can help them run the network more efficiently.
Most network management products are very reactive, but you really need a product that's more proactive in terms of learning from and fine-tuning the network. That's where NetInsight comes in; it can apply machine learning algorithms to a network environment and generate actionable insights for improving performance.
It compares data across similar customer networks and comes up with exact configuration recommendations. It's almost like we're crowdsourcing across a large set of different customers and environments.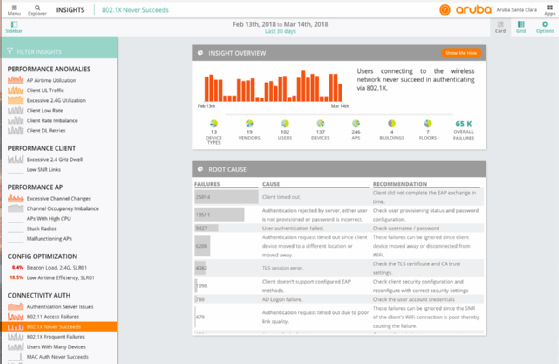 Tell us more about machine learning's role in network performance monitoring and optimization.
Mandava: Machine learning helps look for patterns and problems in large amounts of data. After initial deployment, NetInsight collects environmental and performance information for three or four weeks -- physical characteristics, how far apart the APs are, how the signal is propagating, what kinds of users are connecting to the network, what kind of applications they're running, etc. It builds [a] multidimensional model to understand the environment and identifies similar environments across different customer bases.
We didn't want to limit these peer comparisons to a single vertical, because you could find an environment in high tech that's very similar to one in higher education. And even in a single vertical, such as higher education, you have Wi-Fi deployed in many different environments -- classrooms, high-density classrooms, libraries, student union buildings, residence halls and outdoor spaces.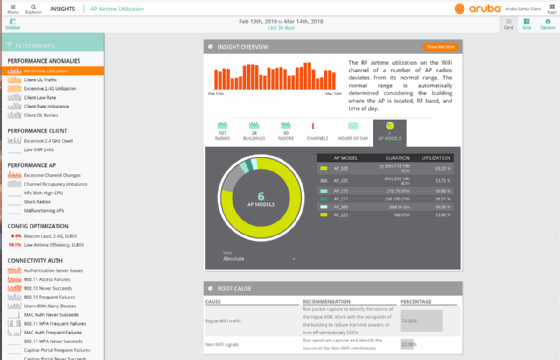 Based on those comparisons, the software then says, 'Using our machine learning models, here are suggestions for improving performance.' We call this feature Wi-Fi Benchmarking. It's actually using machine learning to simplify network management and solve real customer problems.
It's also very proactive: We're not waiting for Wi-Fi users in a given building to complain. Change is always happening in any network, whether it's new applications, devices, firmware or access points. With 802.11ax out, for example, a customer might soon have new types of APs. You need something that can adapt to those changes. The NetInsight tool constantly learns from not just your own network, but other networks, too, which enables that level of self-tuning and self-optimization.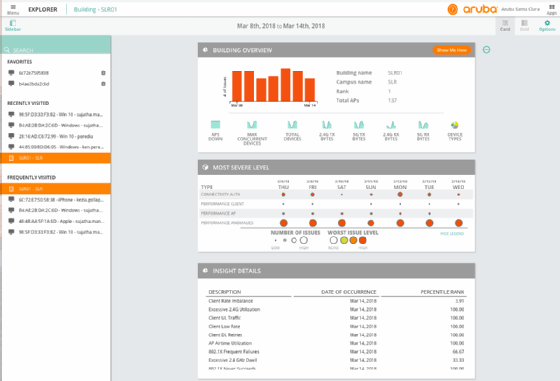 How else does NetInsight allow network managers to be proactive, in ways they likely couldn't without machine learning?
It's almost like we're crowdsourcing across a large set of different customers and environments.

Sujatha Mandavasenior director for network analytics at Aruba
Mandava: It's particularly good at finding unknown problems, anomalies our customers have no idea are happening in their networks. Imagine an organization with 10,000 APs and 300 buildings and -- unbeknownst to them -- 10 or 15 underperforming buildings. That's just not a human-scale problem; it would take hours and hours of going through data from traditional network performance monitoring tools to uncover that capacity issue.
NetInsight, on the other hand, monitors a broad array of connectivity metrics: How are users connecting to the network? How long are they taking? Are they running into authentication DHCP [Dynamic Host Configuration Protocol] issues? Can we isolate a location, an AP or a certain SSID [service set identifier] that can tell us more about why a problem is happening? It has found one unique problem or another in every customer network where it's deployed, and a lot of them were configuration errors that were not visible before.
Every time you make a change in your network, NetInsight can also tell you if it really made a difference in the user experience by comparing the 'before' data and the 'after' data. That comparison feature is very powerful.
Dig Deeper on Network management and monitoring