spainter_vfx - stock.adobe.com
Aruba launches orchestration software for CX fabric
The Aruba Fabric Composer is best suited for a CX switching fabric within a small and midsize data center. The company also introduced the 8360 series of CX hardware.
Aruba, a Hewlett Packard Enterprise company, has introduced network orchestration software for a data center fabric that comprises the company's CX switches.
The Aruba Fabric Composer, launched this week, simplifies CX provisioning in a leaf-spine architecture. Operators can provision new switches added to the network and perform switch-by-switch configuration changes. Fabric Composer communicates with the hardware through the APIs within the ArubaOS-CX (AOS-CX) network operating system.
Fabric Composer's HTML5-based user interface provides a real-time map of the network environment, including VMs and specific switch ports. The UI also provides a view of virtual and physical switch connectivity.
Through AOS-CX, Fabric Composer supports non-HPE products, such as VMware's vSphere and NSX server and network virtualization environments, respectively. Fabric Composer also supports HPE's SimpliVity hyper-converged infrastructure and Nutanix's Prism management software for Nutanix Acropolis hyper-converged appliances.
Fabric Composer can perform routine network configuration tasks automatically. For example, VM changes from within a VMware console will trigger supporting changes within the CX fabric.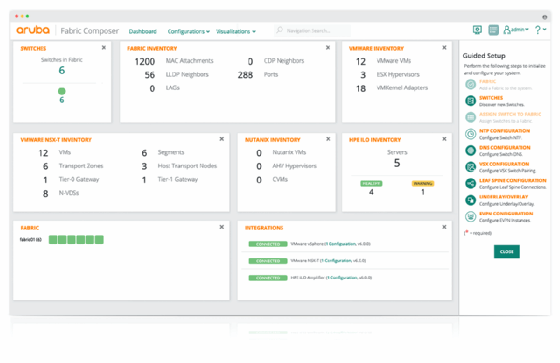 Fabric Composer UI
The Fabric Composer UI includes a host view that shows the connections among VMs, port groups, virtual switches and physical network interface cards. Also displayed are the links among those elements and CX switch ports.
Fabric Composer operators can create policies to optimize data paths for low-latency workloads. The feature can help speed up database transactions and storage replication and mirroring, Aruba said.
Fabric Composer maintains network state based on workload requirements. If those requirements change, the software communicates the updated topology to the CX switches. The devices then make the necessary configuration changes across the fabric.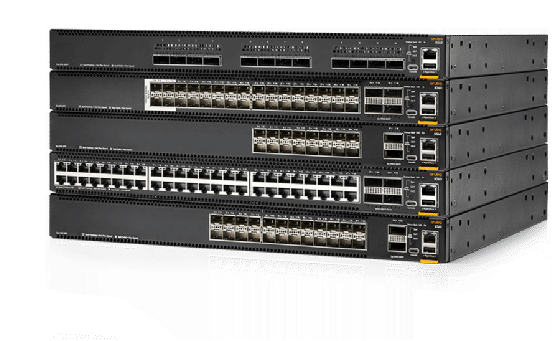 Centralized orchestration software for data center switching is available from many of Aruba's competitors, including Arista, Cisco and Juniper Networks. Aruba has designed Fabric Composer as a lightweight system for small and medium-sized data centers, said Steve Brar, senior director of product marketing at Aruba.
"It's really ideal for kind of the midsize data center or smaller," Brar said. The number of those facilities is growing as companies move more computing environments to the WAN edge.
Aruba, best known for switches and access points for the wireless LAN, is a relatively young player in the data center market. The company launched its first core switches, the 8400, in 2017.
Aruba sells Fabric Composer as a yearly per-switch software subscription.
Along with Fabric Composer, Aruba introduced the CX 8360 switch series. The models include 1/10/25/40/100 GbE switching and cover data center requirements and less demanding edge environments.