Getty Images/iStockphoto
StorOne adds NVMe over Fabrics
StorOne adds NVMe over Fabrics over TCP and remote direct memory access, with no hardware update needed.
StorOne added NVMe over Fabrics to its S1 Enterprise Storage Platform, giving the storage company's users access to a network protocol that lowers I/O latency while avoiding the migration of data to a new storage system.
NVMe over Fabrics (NVMe-oF) on StorOne supports both TCP and remote direct memory access (RDMA) communication standards. The TCP support is added to existing products upon upgrade to this release. Upgrade benefits include lower I/O latency, making the applications respond faster, according to StorOne.
NVMe-oF can be used over Ethernet, Fibre Channel, InfiniBand and RDMA. More and more vendors support NVMe-oF, said Marc Staimer, president of Dragon Slayer Consulting. If vendors can support InfiniBand or Fibre Channel, they can support NVMe-OF -- although Staimer was referring to high-end vendors, not midtier, like StorOne.
Large vendors that have announced support for NVMe-oF include NetApp, Dell and Pure Storage.
InfiniBand and RDMA
Adding InfiniBand through NVMe-oF was easy for StorOne, said George Crump, chief marketing officer of the company. It adds a new networking protocol for high-performance computing (HPC) users without infrastructure changes.
However, adding support for RDMA isn't simple for users, as it requires specific gear. Customers may need a different switch and network cards to support RDMA. But NVMe-oF TCP supports nearly all use cases, with RDMA making up a small fraction, Crump said.
Staimer said NVMe-oF TCP will be widely adopted over RDMA, as it doesn't require special switches or extra costs up front. Users who opt for RDMA require it for lower latency and uses like HPC and transactional databases.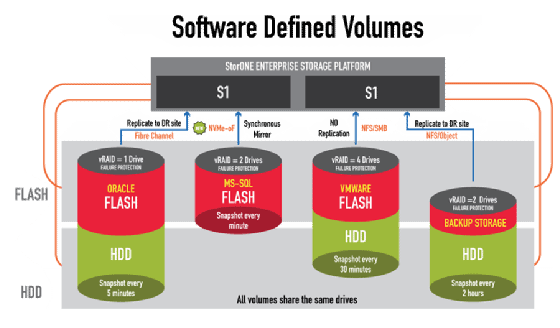 Solving tech refresh problems
"Most storage vendors come out with a new version of their product," Staimer said. "But you can't upgrade to the new version without replacing the old. There is no replacing here."
Tech refreshes can cause problems, Staimer said. Users must move data from the current product to the new. For users with a lot of data, this could take months. It's not just storage either. If users need NVMe-oF, they probably need new network interface cards for their servers and new switches as well, he said.
StorOne simplifies upgrading to higher throughput, lower latency and better performance in storage without a customer having to replace anything, Staimer said.
Over the last year, customers have gone from viewing NVMe-oF as a nice choice to now considering it a necessary option, Crump said. The chip shortage is driving this need. Customers increased the density of their VMs and applications to support more users due to the scarcity of hardware. This scaling of density increases random I/O, putting more pressure on the network but not on bandwidth. This results in a demand for lower latency, which NVMe-oF can address, he said.
The latest StorOne update that supports NVMe-oF over TCP and RDMA is available now.
Dig Deeper on Flash memory and storage