Andrea Danti - Fotolia
Two Tegile storage tiers highlight IntelliFlash update
Tegile Systems updates IntelliFlash with two tiers of flash. The 6U Tegile configuration supports 72 SAS SSDs for capacity and NVMe flash drives for performance.
Tegile Systems on Wednesday refreshed its all-flash IntelliFlash HD storage system by blending solid-state drives and nonvolatile memory express flash cards in a 6U package.
The revamped Tegile storage array provides a 4U high-density tier, with 72 2.5-inch SAS-connected SSDs and 2U of NVMe flash as a performance tier. The system runs IntelliFlash 3.7 operating software. The Peripheral Component Interconnect Express (PCIe) SAS drives cache metadata requests on four embedded NVMe drives. The NVMe high-performance tier and bulk-capacity flash connect via a 12 Gbps SAS interface.
The 6U configuration provides 480 TB of raw storage, which translates to 2.4 PB of usable capacity based on Tegile's presumed 5-to-1 inline data deduplication and compression. Customers can add a second 4U configuration to a maximum of 10U and 5 PB of effective capacity.
The bifurcated flash architecture in the updated Tegile storage allows customers to run both performance-intensive databases and general-purpose block and file storage on one platform, without a performance hit, said Rob Commins, vice president of marketing at Tegile, based in Newark, Calif.
"This thing is going to be a screamer. We're able to do more than 750,000 IOPS with latency of two-tenths of a millisecond, [which is] 200 microseconds. You get results [that cost] about 30 cents a gigabyte," Commins said.
"We're trying to drive consolidation of all the different silos of storage you might have. We do both block and file on the same box. Now, you can run fast databases over Fibre Channel and store PowerPoint files over a CIFS, NFS or SMB share, all on the same system, with different tiers of flash for price and performance," he added.
Tegile joins vendor parade for NVMe flash
We're trying to drive consolidation of all the different silos of storage you might have.

Rob Comminsvice president of marketing, Tegile Systems
Tegile launched in 2012, selling hybrid arrays that combine SSDs and rotating disk, and it added all-flash to its repertoire in 2014. It added IntelliFlash HD in 2016, basing the design on its flash controller and SanDisk Corp.'s InfiniFlash 3U all-flash chassis. SanDisk is now part of Western Digital.
The 4U IntelliFlash chassis is used on other Tegile storage arrays, including the T Series all-flash and T Series hybrid models that combine SSDs and fixed disk.
NVMe is a host controller interface designed to speed data access between media and storage systems. The speed increase stems from NVMe's use of the PCIe bus. Unlike traditional SAS or SATA transmission protocols, NVMe cuts down on SCSI overhead and supports more queues and increasing queue depths.
For most organizations, NVMe performance at this point is overkill. Few enterprises have workloads that will consistently saturate the available bandwidth to make NVMe a pressing concern. Still, that hasn't stopped networking and storage vendors from jockeying for early position.
Pure Storage recently previewed with Cisco an NVMe over Fabrics device based on Pure's FlashArray//X array block storage and Cisco's Unified Computing System servers. Dell EMC recently discontinued its proprietary DSSD D5 all-flash NVMe system, but has vowed to use the technology in its other storage. A handful of storage startups, such as E8 Storage and Apeiron Data Systems, are building all-flash arrays that use commodity servers and PCIe-connected NVMe SSDs.
Using two kinds of flash in the same array gives Tegile storage customers a bigger bang from their flash investment, said George Crump, president of IT analyst firm Storage Switzerland LLC.
"Tegile takes a hybrid approach that uses two kinds of flash in the same box. This gives data centers a single solution to serve high-transactional databases and emerging high-density workloads like active archives," Crump said.
IntelliFlash uses dual-active controller architecture with 464 GB of memory. Tegile exposes storage systems across Fibre Channel, iSCSI and NFS or SMB file protocols. IntelliFlash 3.7 features a new Tegile storage driver that supports SAS and NVMe drives native to the box. Drives sit atop the PCIe protocol embedded in the array.
"The dense flash is interesting in itself, but what's equally interesting is the hybrid nature of the flash interface," Crump said.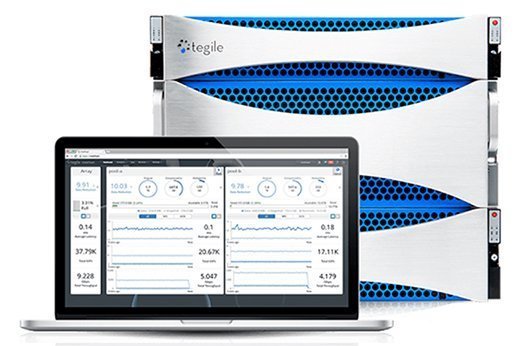 IntelliFlash 3.7 beefs up with self-encrypted drives, Tegile key management
In addition to its inline data reduction, IntelliFlash 3.7 supports application-aware provisioning, clones and snapshots, and replication between Tegile all-flash and hybrid arrays.
Commins said the code update centered on optimizing data paths and workflows to squeeze as much performance from flash as possible. The SanDisk InfiniFlash subsystem did not support encryption, which Tegile has added with its own key management.
IntelliFlash HD runs self-encrypting enterprise SAS SSDs from Western Digital. Encryption occurs in a distributed fashion natively on the drives. Tegile protects data at rest with inline 256-bit AES encryption.
"Adding encryption will open up the floodgates to certain vertical markets where we've had a hard time selling," such as healthcare and other regulated markets, Commins said.