Fotolia
SwiftStack object storage integrates file protocol support
New SwiftStack 6.0 storage software supports Universal Access to data with added support for SMB/NFS file protocols to go with Amazon S3 and OpenStack Swift object APIs.
SwiftStack Inc.'s new 6.0 product release adds Universal Access capabilities to enable customers to read and write files to object storage in private or public clouds without a gateway.
The San Francisco-based software vendor originally gained a following through its commercially supported version of open source OpenStack Swift object storage. But SwiftStack object storage has steadily added capabilities and, with the version 6 release, the startup now refers to its product as "multi-cloud data management" that provides a "cloud-native" single namespace for unstructured data.
SwiftStack object storage always supported the OpenStack Swift and Amazon S3 APIs. With its 2.0 product release, SwiftStack added a gateway to enable users to put file data into an object storage system via API and take it out via file, or vice versa, noted Mario Blandini, the company's vice president of marketing.
"The reality is, no one used our file system gateway because what they really wanted is it to be as fast as their NAS and as cool as their NAS but then cheap as in object storage," Blandini said. "Architecturally, a gateway could not delight our customers."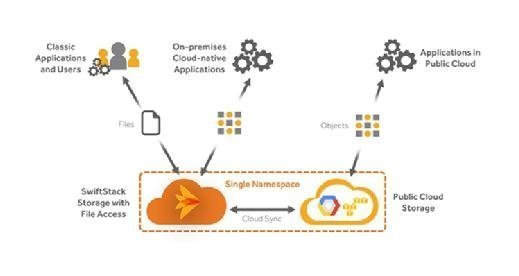 Integrated support for SMB/NFS file protocols
SwiftStack's Universal Access now enables users or applications to access unstructured data from any private or public cloud location through the SMB and NFS file protocols and Amazon S3 and Swift object interfaces. The system can read and write data to a cloud-based single namespace in both formats. For instance, it can ingest data via file and read via object, or vice versa.
"Any workflow comprised of any number of parts works, as long as the file interfaces are SMB or NFS, and the object interfaces are Swift or S3," Blandini said.
Try not to label us as an object storage company ... because at the end of the day, no one cares about object storage.

Mario Blandinivice president of marketing, SwiftStack
Combining Universal Access with SwiftStack's previously released Cloud Sync capabilities enables IT managers to control the placement of data in private or public clouds based on policies tailored to specific application workloads and facilitate multiprotocol access to the information. Blandini said the true benefit is being able to "put the right stuff in the right place at the right time without having your users do it -- having your IT governance control where the data is placed."
He said the new capabilities would enable SwiftStack, for the first time, to "ask people to please stop thinking of us as an open source company," and "while you're at it, if you could try not to label us as an object storage company, that'd be even better, because at the end of the day, no one cares about object storage."
"When people write to a public cloud, they don't care that it's object storage," Blandini said. "One of the things that's made object storage elusive for most users is the fact that it's been made up to be way more complicated than it needs to be. With cloud-first initiatives coming from CIOs and the mandate to provide DR and site recovery for a lot of businesses who can't afford a second data center, we're seeing a lot more momentum going to these things because it's practical to do now."
George Crump, founder and president of Storage Switzerland LLC, said SwiftStack's Universal Access provides "some feature uniqueness that nobody else at least at this point has delivered." But he said it's probably not the one feature by itself that could push SwiftStack over the edge to significant market share.
"They have really good technology. Now it comes down to can they market," Crump said. "I'd say the jury is out at this point."
Howard Marks, founder and chief scientist at DeepStorage LLC, said SwiftStack's pioneering work to have a single system that facilitates access to the same data via file and object APIs means developers won't have to rewrite file-based applications for object storage paradigms and can write new applications to the S3 object API without having to worry about support for file APIs.
"It certainly opens up a new market" for SwiftStack, Marks said. "Their market before had been people building object storage for cloud-type applications. They open it up to the people who have applications using files now that want to make the transition to object and use that as their transition to a cloud strategy."
Stiff competition for SwiftStack object storage
Marks noted that SwiftStack object storage faces stiff competition in a busy market populated with well-established vendors, startups and open source options such as Ceph. He said the company is taking the right approach in de-emphasizing its OpenStack Swift roots.
"The general-purpose object market is way bigger than OpenStack, and they don't want to be ghettoized," Marks said. "OpenStack is starting to get the smell of failure on it. People are starting to look down on OpenStack."
Torsten Volk, a senior analyst at Enterprise Management Associates, said SwiftStack version 6 could serve as a complement to traditional NAS. "For latency-sensitive use cases, traditional NAS can stay in place. However, you could use SwiftStack to get more mileage out of existing filers by moving off the less demanding data," Volk wrote in an email.
Volk said SwiftStack's software could also be helpful for container users. "Containers notoriously are fighting with data mapping. SwiftStack gives them API access so that you don't have to worry about Kubernetes storage drives or plug-ins," he wrote.