Cloud data storage: New technologies make cloud storage more appealing
Discover the benefits and drawbacks of cloud data storage, get details on players in the private storage cloud space and learn more about cloud storage services.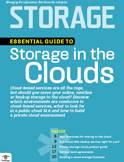 It may be a concept that's been around awhile, but cloud data storage has suddenly, and dramatically, jolted the approach to data storage with a newly burnished alternative to traditional storage methods. First floated more than a decade ago, the technologies that allow storing data in a distant, or even local, cloud are finally reaching maturity, with numerous products and services designed to fit the requirements of companies of all sizes.
But as the name suggests, cloud storage can be a bit hazy at times, especially when the notion shifts from online services to in-house storage architectures. Although they represent two very distinct implementations, internal and external clouds (or private and public clouds) are built on essentially the same foundation -- a resilient storage platform that offers vast capacities of inexpensive disk that can serve multiple constituencies simultaneously.
For users, the model for external cloud storage services is astonishingly simple: You can augment or back up your existing storage systems over the wire to an external storage facility while only paying for the storage capacity you actually use. That can translate into significant Capex savings while enhancing data protection. Many cloud storage services have been around for some time, initially offered as consumer or small office/home office (SOHO) services but now offered in more muscular versions that are appropriate for larger firms. And some pretty big players -- like Amazon, Iron Mountain and Seagate's i365 -- are actively advancing the state of the art.
Once considered strictly for backup, some cloud storage services come in hybrid implementations that typically include an onsite appliance that links to the remote service provider's storage. Those arrangements can make cloud data storage a feasible alternative for even active online data, and a promising option for branch office and remote site storage.
With a new storage paradigm, however, comes a new set of considerations and concerns. cloud storage providers are working to allay storage managers' hesitancy about shipping their data offsite where it's no longer under their complete control. Service-level agreements (SLAs) are the key to providing some assurance and peace of mind for cautious storage managers, so negotiating a suitable SLA may be the single most important step in contracting for storage cloud services.
Of course, if sending your data to another company's storage system isn't an option, the internal version of cloud storage may well be. There's been some confusion about internal storage clouds due largely to the use of the term "cloud," which is usually associated with the Internet or some other online facility. But adding to the confusion is that many of the technologies associated with an internal cloud architecture have been around for some time, like storage clustering. But the new products in this field do a better job of packaging a complete solution that can make the long-sought idea of utility storage a reality. An internal cloud can be a very appealing way of addressing the massive growth of file storage that most companies are struggling with by providing relatively inexpensive storage on demand. Multitenancy -- the ability to efficiently carve up storage resources to serve discrete groups of users -- and centralized management are among the key developments that have lifted clustered storage technologies into the cloud.
The biggest obstacle for cloud storage services, for both users and purveyors of cloud services and products, is a storage shop that's firmly entrenched in the traditional ways of handling a company's data. Download this Essential Guide on Storage in the Clouds to read a series of articles that address many of the concerns and issues related to cloud data storage in an even-handed manner that points out the technology's benefits and drawbacks.
--Rich Castagna, Editorial Director of the Storage Media Group
TABLE OF CONTENTS: ESSENTIAL GUIDE ON STORAGE IN THE CLOUDS
Five best practices for moving to the cloud
Our SearchStorage.com Editors provide readers with tips they've gleaned from storage administrators and other experts on how to get the most from cloud data storage, including what to look for in a service-level agreement (SLA), using existing resources to set up a cloud and how to avoid hidden cloud storage pricing.
Is a cloud data backup service right for your organization?
We provide the highlights on choosing cloud backup services for your organization. Learn the pros and cons of cloud data backup technology, and find out if it's a better alternative than relying on an on-site data backup and recovery strategy.
Private storage cloud product guide
Theoretically, almost any storage system and software can be used to build a private storage cloud. But over the past year or so, vendors have come out with new products or reworked old ones by adding multitenancy and security features that make the products suited to power private data storage clouds in the enterprise. This product guide gives a rundown of the major products in the private cloud storage space, some of which are cloud storage software applications that can run on commodity hardware, while others are integrated hardware/software systems.
Cloud SLAs specify uptime but not availability
Cloud SLAs provide uptime guarantees, but offer few specifics on data availability and data protection. Terri McClure, a senior analyst at Enterprise Strategy Group, tells us what end users can expect to find in their cloud storage SLAs and how they can try to customize the SLA for cloud backup and archive.
How to build a cloud storage services business
Many hosting companies resell public cloud storage services to their customers, but it might also be a good investment to host your own cloud storage services. Although that's taking a big risk, the rewards are great if done correctly.
Next Steps
Take our quiz to find out what you really know about cloud storage