itestro - Fotolia
Citrix Managed Desktops close to GA release
Citrix Managed Desktops, which will be released Aug. 26, is meant to make managing desktops for IT easier by having Citrix control the management aspects of virtual desktops.
Citrix is releasing its Managed Desktops product Aug. 26, adding another desktop-as-a-service product in the growing market.
Citrix Managed Desktops is designed to provide end users and IT admins with a simpler way to deploy and manage desktops, according to Citrix, compared with its Virtual Apps and Desktops product, which requires more IT management than Managed Desktops is expected to.
"This is very much a tooling platform to enable hybrid cloud delivery," said Nathan Hill, an analyst at Gartner. "Managed Desktops is positioned as a turnkey solution as opposed to a broad set of services that require customers to integrate and manage the services. The management is taken care of for them."
Citrix Managed Desktops is hosted on Azure and is meant to work in concert with Windows Virtual Desktops (WVD), once Microsoft releases its DaaS product. According to Citrix, Managed Desktops can help IT admins connect WVD with non-Windows-based applications and manage those connections.
"The infrastructure required to support virtual desktop infrastructure is pretty substantial," said Scott Sanders, CIO at Sikich LLP, a technology consulting and CPA firm. "So it took a pretty sizeable IT department and some higher-level expertise to support a VDI. But with the way vendors like Microsoft [and Citrix] are positioning it now, they're taking all those management requirements away from IT."
The features within Citrix Managed Desktops include integration to WVD with Windows 10 hosted on Azure and secure remote access from any device using multifactor authentication. Citrix will also become a reseller of Microsoft 365 licenses.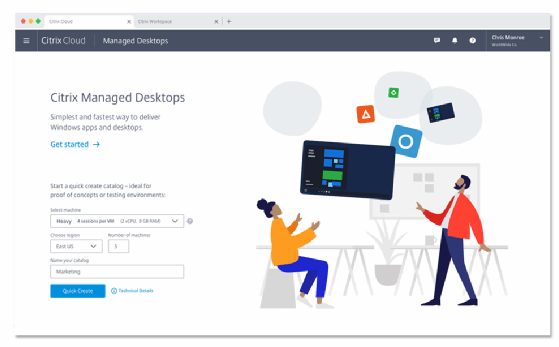 Ease of use for SMBs
In addition to supplementing what WVD can do, Citrix Managed Desktops may be an attractive product for smaller or midmarket organizations that are looking to virtualize their desktops but don't have the capacity or capabilities to manage them in-house.
"For larger enterprises, they're fine with their [virtual delivery agent] being where they want it, but when you get to midmarket or SMBs, they just want Citrix to manage their desktops end-to-end," said Pete Downing, chief marketing and technology officer at XenTegra, a Citrix managed service provider.
Downing has been able to use Managed Desktops in a beta capacity and agreed with the simplicity that it can provide organizations and IT departments.
The value I see is I can go to one vendor in Citrix and get however many desktops I need spun up in minutes.

Pete DowningChief marketing and technology officer, XenTegra
"The value I see is I can go to one vendor in Citrix and get however many desktops I need spun up in minutes," Downing said, adding that at this point, organizations will need to also have an Azure license to benefit from Managed Desktops. "I don't know what GA will look like, but right now you still need to have Azure."
According to Carisa Stringer, Citrix's senior director of product marketing, IT will be able to acquire Microsoft and Azure licensing directly from Citrix when licensing Managed Desktops, easing the licensing process for organizations.
For those with an existing Azure license, Citrix Managed Desktops plans to allow connectivity to that license, but those capabilities won't be ready for the GA release Aug. 26, according to Stringer.
Connecting applications correctly
For organizations and IT departments looking to deploy Managed Desktops, there is a stumbling block to take care of, according to Kireeti Valicherla, principal product manager at Citrix, and it's around connecting applications to the correct back-end systems.
"When you virtualize an application -- take Outlook, for example -- if you don't plan carefully on where the back-end application is, the end-user performance can suffer," Valicherla said. "If you move it into Azure but the backline database is still on premises, it can affect that UX."
Citrix Managed Desktops will be available $16 per user, per month for a monthly license, or $160 per user, per year for the first 100 users.
Dig Deeper on Virtual desktop delivery tools