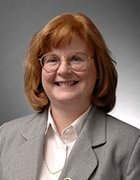 Anne Marie Smith, Ph.D.
Principal Consultant -
Alabama Yankee Systems, LLC -
Anne Marie Smith, Ph.D., is an information management professional and consultant with broad experience across industries. She has exceptional, demonstrated skills in enterprise information/data management strategy and implementation, business requirements gathering and analysis, data governance and stewardship program development and implementation, data architecture, data and process modeling, data quality management, master data management, and data warehouse planning and design.
Smith holds a Ph.D. in Management Information Systems, as well as an MBA in MIS and Risk Management. She has earned the designations of Certified Data Management Professional (CDMP), Certified Business Intelligence Professional (CBIP), and Certified Data Governance Professional (CDGP). Smith has been a faculty member at several universities, and is an accomplished educator and renowned lecturer in her fields of expertise. She is a frequent contributor to various information security publications, with numerous articles to her credit.
Anne Marie Smith, Ph.D.'s Most Recent Content