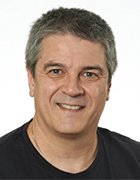 Benny Tritsch
Independent Consultant -
Benny Tritsch is a solutions architect, market analyst, community leader, author, and founder of DrTritsch.com. His technical expertise is in IT virtualization, Windows workspace management, Cloud technologies, high-end graphics remoting and remote end user experience benchmarking. In his role as a principal consultant and evangelist, Benny works with customers and partners across Europe and North America.
From 1999, Benny was in management positions at international IT vendors and consulting companies, before starting his own consulting practice in 2015. He speaks around the world at major industry events each year, including Microsoft TechEd/Ignite, Citrix Synergy, VMware VMworld, BriForum, and E2EVC.
Benny has received the Microsoft Most Valuable Professional (MVP) award for Remote Desktop Services in each year since 2004. In 2006, he was a charter award winner of the Citrix Technology Professional (CTP) program, and In 2015 he was awarded as a Microsoft Regional Director and a VMware vExpert.
Benny holds an equivalent to a PhD in Computer Science from Darmstadt Technical University (Germany) and an equivalent to a Master of Science degree in Physics from Freiburg University (Germany). For more, see Benny's website, biography and the list of my public presentations.
Benny Tritsch's Most Recent Content