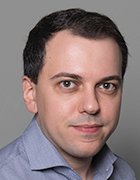 Dmitry Raidman is an entrepreneur, writer, CTO and co-founder of IoT security startup Cybeats. Cybeats is a deep-tech IoT cybersecurity defense company that solves a critical security gap for companies that manufacture, integrate or deploy IoT devices. Until now, IoT devices have been vulnerable to cyber attacks, making them easy targets for cybercriminals.
Dmitry is a passionate product leader, and his career spans over 20 years in DevSecOps and cyberdefense product management, including experience as the lead security automation architect of mission-critical systems at a number of well-known companies.
From Dmitry's point of view, when it comes to security and DevSecOps, it's imperative to embrace technology and harness the innovation brainpower with a clear goal to solve complex and time-consuming tasks. We need to connect the dots, and it is our responsibility to find the right glue or create it.
Dmitry recently started the Security Architecture podcast to give back to communities and help companies improve cybersecurity architecture.
Dmitry Raidman's Most Recent Content