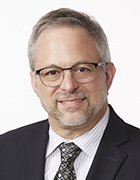 Doug Tedder is the principal of Tedder Consulting LLC, a service management and IT governance consultancy. Doug is a recognized thought leader who is equally adept in interactions from senior leadership to day-to-day practitioners. His attention to detail, industry knowledge, emotional intelligence and ability to see the big picture and make it actionable has resulted in a track record of success in transforming IT organizations into valued business partners.
Prior to starting his business, Doug spent over 25 years working in corporate IT organizations in a variety of local, regional and global roles.
Doug holds numerous industry certifications in disciplines ranging from ITIL, COBIT, Lean IT, DevOps, KCS, VeriSM, and Organizational Change Management. Doug was recognized as an "IT Industry Legend" by Cherwell Software in 2016 and named one of HDI's "Top 25 Thought Leaders in Technical and Service Management" for 2018.
Doug is an author, blogger and frequent speaker and contributor at local industry user group meetings, webinars and national conventions. Doug is a member and former president of itSMF USA, a member of HDI, a contributing author to VeriSM and co-author of "VeriSM - A Pocket Guide."
Doug Tedder's Most Recent Content