JRB - Fotolia
Evaluate AI-based ITSM tools using these key points
After determining that artificial intelligence would benefit an IT environment, the next big challenge is to assess AI-based ITSM tools in terms of feature set and pricing model.
The application of artificial intelligence to IT operations -- or AIOps -- enables an organization to codify existing IT knowledge, based upon historical data and information. For IT practitioners, this produces a number of benefits, including reduced manual efforts and more time for strategic tasks.
Before implementing AI-based IT service management (ITSM) tools, however, buyers need to assess features around automation and integration, as well as licensing and pricing models.
What to buy
AI-based ITSM platforms have a similar, overarching goal -- to make it easier to interact with ITSM processes and reduce or eliminate the tedious and repetitive work that often comes with end-user support. For example, chatbots and virtual agents engage an end user in a conversation-like interaction to simplify service requests and incident logging.
More specifically, the AI-based ITSM market focuses on three areas. The first, and perhaps most prevalent, is service desk augmentation. Chatbots and virtual agents are the dominant tools, enabling self-help capabilities for end users and deflecting contacts from the service desk. The second area is automation. Process orchestration and robotic process automation take on the often tedious and repetitive tasks that IT organizations perform. The third area is data and operational consolidation. Machine learning and natural language processing enhance automation platforms, enabling them to interpret and apply appropriate, context-specific actions.
Some AI-enabled ITSM tools address the repetitive aspects of service desk work, but also the broader operation of an IT environment. These tools might proactively respond to events, but also interpret existing data, predict performance and suggest certain actions. Other tools offer low code/no code capabilities for visual workflow design; integration kits to work alongside other, non-ITSM tools; and AI-assisted workflow design.
While it is possible for an organization to use open source platforms and APIs to build its own AI features and tools, this places the burden of maintenance and support on the organization itself.
How to buy
AI-based ITSM systems are typically available in one of the following three ways:
AI functionality integrates with the ITSM platform: Some of the ITSM tool vendors, such as SysAid and Micro Focus, have integrated AI features like chatbots and machine learning into their main product offering.
AI functionality is available as a separate module, feature or add-on to the ITSM tool. ServiceNow's ITSM Pro package and ManageEngine's Zia plug-in for ServiceDesk Plus Cloud are examples of this approach.
AI functionality is available as a stand-alone platform: These vendors provide integrations with disparate data sources and multiple tools, providing a single IT management view. AISERA and BigPanda are among some of the vendor examples of this approach.
Editor's note: With extensive research into the ITSM tool market, TechTarget editors have focused this series of articles on vendors with considerable market presence and that offer ITSM tools with AI functionalities that can be classified as responsive, proactive, predictive and autonomous. Our research included Gartner, Forrester Research and TechTarget surveys.
AI-enabled ITSM tools also follow a broad range of licensing models, including the following:
Per user or per named user: The price of AI functionality is based on the number of users of the product.
Per transaction or bundles of transactions: Pricing is based on the number of transactions the AI feature executes, such as during chatbot use. Some vendors provide bundled pricing, where users can purchase blocks of transactions to help predict and control costs.
Number of workflow automations: This is similar to the transaction licensing model, but based on the number of workflow automations configured within the product.
Number of integrations: Pricing is based on the number of integrations configured within the tool.
Value-based: The price of the license is based on the value that the system provides to the organization.
Good data enables good AI
For an AI-enabled ITSM tool to be successful, it requires relevant data and information.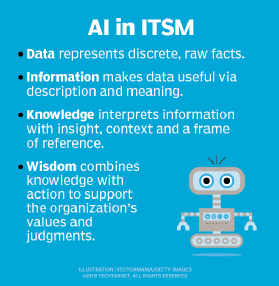 To understand tool-based intelligence, buyers should think in terms of the data, information, knowledge and wisdom (DIKW) model and how its hierarchy enables better information science.
The data, information and knowledge layers represent current and historical operations. ITSM practitioners typically apply their individual knowledge or repository-based knowledge in reaction to events and circumstances within the managed IT environment. Knowledge sharing is only voluntary, so various team members will repeatedly solve issues that are already known to the organization. Knowledge-based reactions are also vulnerable to the individual's perception and interpretation of data and information. Wisdom, in this operating model, is the byproduct of time and experience. Seasoned ITSM practitioners can answer the why do and know why questions, but their wisdom is transactional and easily lost.
Before implementing AI-enabled ITSM tools, however, buyers need to assess features around automation and integration, as well as licensing and pricing models.
AI-enabled ITSM products promise to codify the knowledge gleaned from historical data and information to help practitioners look ahead, develop strategies and evaluate opportunities. AI can also develop new knowledge from new data and information, at a scale greater than individuals could achieve.
Make no mistake: Effective AI use is not just the result of good knowledgebase articles. Incident and request records can also help AIOps tools "learn," and an accurate and well-maintained configuration management database (CMDB) enables tools to analyze situations and suggest actions -- fully aware of the relationships between a faulty configuration item and other configuration items.
Other data can and should be part of AI enablement. Integrate data from monitoring and alerting tools to help AI platforms proactively anticipate and take corrective actions. As changes occur within the CMDB, the AI tool can update corresponding information in the IT asset management database and vice versa.
Without established practices for data, information, and knowledge, AI-enabled ITSM tools will struggle. Fortunately, many of these tools provide myriad options to address that issue. Pre-defined workflows and actions, repositories of keywords and contextual phrases, vendor-supplied knowledge articles and supervised learning models can help introduce AI within an ITSM environment.
If AI in ITSM succeeds, people can work at the wisdom level, bypassing the data and information levels of the DIKW model, because knowledge is captured and applied consistently.
Some AI and ITSM wisdom
Here are five tips to prepare for a successful AI implementation:
Assess readiness. If the current ITSM environment is too high-touch and maintenance-intensive, AI-enabled ITSM tools might not be the best investment. Invest first in improved process design and effective governance.
Don't overlook governance. Without a well-defined approach to governance, AI technologies may inadvertently, or even maliciously, function in ways that contradict the organization's mission and vision. Companies must define and enforce policies and procedures to address issues, such as ethical AI behaviors, or ensure the integrity and accuracy of data acted upon by AI technologies.
Take a portfolio approach. In the rapidly evolving ITSM market, wise IT shops take a longer view of AI use. Identify and implement quick wins, conduct experiments to grow skills and define and establish longer-term goals. This kind of portfolio approach ensures the organization gets the best results from AI-enabled ITSM.
Emphasize the people part. Where will you find that historical wisdom to train your chatbot? Who knows how to effectively manage those repetitive end-user issues from within a knowledgebase article? Promote the introduction of AI-enabled ITSM tools as a way to build off of IT staff's current knowledge, which then enables staff to focus on more strategic initiatives.
Take a holistic view. AI can have a place in the enterprise beyond ITSM. Many of the vendors in the AIOps market provide platforms for customer service, HR and other business functions. The introduction of AI-enabled ITSM also gives the IT team an opportunity to lead similar efforts across the organization -- but unless IT understands enterprise value streams, there is a risk of creating or reinforcing a silo mentality.
Dig Deeper on IT operations careers and skills