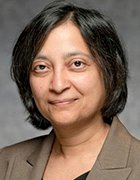 Nipa Basu
Former Chief Analytics Officer -
Dun & Bradstreet -
Dr. Nipa Basu was the chief analytics officer at Dun & Bradstreet Inc. until February 2019. Leading a team of data scientists, she created innovative analytics solutions to drive business growth and results for Fortune 500 companies.
Nipa held key leadership positions focused on driving the success of Dun & Bradstreet's analytics practice since joining the company in 2000. In 2012, she became the leader of analytic development, and in March 2015, she was appointed to Dun & Bradstreet's executive team and assumed the chief analytics officer role.
Before joining Dun & Bradstreet, Nipa was a database marketing statistician for AT&T with responsibility for building predictive marketing models. Prior to that role, she worked at Sandia National Laboratories, a federally funded national defense and security research center, where she built a microsimulation model of the U.S. economy. Nipa began her professional career as an economist with the New York State Legislative Tax Study Commission.
Nipa received her Ph.D. in economics from the State University of New York at Albany, specializing in econometrics.
Nipa Basu's Most Recent Content