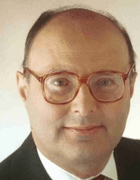 Robin F. Goldsmith, JD, has been president of >Go Pro Management Inc. consultancy since 1982. He works directly with and trains business and systems professionals in requirements analysis, quality and testing, software acquisition, project management and leadership, metrics, and process improvement. He partners with ProveIT.net in providing ROI Value Modeling tools, training, and advisory services.

Previously he was a developer, systems programmer/DBA/QA, and project leader with the City of Cleveland, leading financial institutions, and a "Big 4" consulting firm.

Author of numerous articles and the recent Artech House book Discovering REAL Business Requirements for Software Project Success, and a frequent speaker at leading professional conferences, Robin was formerly International Vice President of the Association for Systems Management and Executive Editor of the Journal of Systems Management. He was founding chairman of the New England Center for Organizational Effectiveness.
Robin holds the following degrees: Kenyon College, A.B. with Honors in Psychology; Pennsylvania State University, M.S. in Psychology; Suffolk University, J.D.; Boston University, LL.M. in Tax Law. He is also a member of the Massachusetts Bar and licensed to practice law in Massachusetts.
Robin Goldsmith's Most Recent Content