Bjrn Braun 200% - Fotolia
OSDU Data Platform opens door to new apps in energy sector
A new OSDU standard aims to bring information from oil, gas, wind, solar and other sources into a single data platform to help energy companies address future demand.
A new industry standard could help crack open data silos that have hindered some of the world's largest energy companies from pursuing digital initiatives and using AI and machine learning applications.
The production-ready Mercury Release of the Open Subsurface Data Universe (OSDU) Data Platform separates the siloed data from the applications and sets standards for defining, accessing, storing and protecting the complex information energy companies need to run their businesses. The OSDU platform also provides a set of REST-based APIs for developers to build applications for the energy industry.
There's reason for optimism that the OSDU Data Platform could have a significant impact. Many of the world's largest oil and gas operators and technology and cloud services providers count themselves among the 229 members of The Open Group's OSDU Forum that formed in 2018 to create the standard data platform.
Forum members from the oil and gas industry include Shell, Saudi Aramco, BP, ExxonMobil, Total, Chevron, Gazprom Neft and Petrobras. Tech-sector participants include Amazon Web Services, Dell Technologies, Google, Hitachi Vantara, Huawei Technologies, IBM, Intel, Microsoft, Nvidia and Oracle.
At the launch event last week, Bluware, Enthought, Halliburton, Ikon Science, InerG, Schlumberger and SoftServe demonstrated applications they've built for the OSDU Data Platform and offered a glimpse at the software market that could take shape around the energy industry.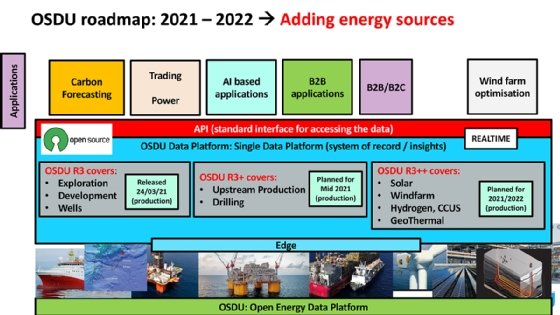 Expanding focus to wind and solar
The OSDU Forum initially focused on the needs of oil and gas companies, but after the first year, the group expanded its work to encompass newer energy sources, such as wind and solar farms. The forum's efforts also target the environmental, social and governance market that track greenhouse gases and carbon offset credits.
The ultimate goal is bringing together information about all energy sources into a single data platform to help energy companies determine the most efficient way to meet tomorrow's energy demands, according to Johan Krebbers, general manager of emerging digital technologies and vice president of IT innovation at Shell, who leads the OSDU management committee.
"What's the ideal mix from wind energy, solar energy, gas energy, what have you, based on cost, on availability, etc.? You, as an operator, can optimize your whole supply chain by bringing all that data into a single data platform," Krebbers said.
Mercury marks the third release of the OSDU Data Platform, but Krebbers said it's the first that's ready for production use by oil and gas operators and other energy companies. He said they can ask Amazon, Microsoft, Google or IBM to install and configure the OSDU Data Platform as part of their cloud subscriptions. Companies that prohibit or lack cloud access have the option to deploy the platform on premises.
Major data migration effort
Krebbers said the biggest task for energy operators would be migrating data from their current data stores into the OSDU Data Platform. He expects companies will take a step-by-step approach and prioritize the application data they want to move first. Tools, utilities and documentation are available to help, he said.
Given the massive amounts of data that many oil and gas companies have, migrations could take a year or more, Krebbers acknowledged. But, he said, companies would start deriving benefits the moment they start moving data.
"You bring it into a general data platform with the public API, and the data becomes immediately available for all applications, even if you don't have all the data loaded across it," Krebbers said.
Krebbers noted that the OSDU Data Platform is a system of record, with support for about 100 different data types and searchable metadata stored separately from the data. Energy companies won't be copying their data to a new location. They need to move it from their legacy environments to OSDU-based cloud storage or to an on-premises system, such as IBM's OpenShift-based option, Krebbers said.
So far, Shell has an OSDU-based development environment up and running, and it has been testing data loading, according to Krebbers. He said other oil and gas companies have also started to adopt the OSDU platform.
"The world has to move to digital," Krebbers said. "We were not in a position to do that because the data was scattered all over the place in many silos. But, if you want to support AI, machine learning, you name it, you have to change."
Carol Sliwa has been a TechTarget senior writer since 2008. Her coverage area includes enterprise architecture, flash, memory and storage drive technology.
Dig Deeper on Enterprise architecture management