Noppasinw - Fotolia
AWS Ground Station aims to lower satellite data costs
AWS Ground Station is Amazon's foray into satellite communications. Learn how one data and analytics company is using this satellite data transmission service.
Companies that rely on satellite data often have to rent or build ground stations for surface-to-space communication. This can be an expensive, inefficient endeavor. And because many of these companies eventually store and analyze satellite data on AWS, Amazon developed a satellite ground station service.
AWS Ground Station -- introduced at re:Invent 2018 and operational as of May 2019 -- is a pay-as-you-go managed service that can process and scale satellite communications without the need for users to build or lease an existing ground station.
While orchestrating satellite communication may be uncharted territory for AWS -- and only two of its envisioned 12 ground stations are up and running so far -- AWS Ground Station is also a familiar move for the cloud giant. With the service, AWS has staked a middleman position where it can streamline satellite ground station costs.
"This is all about speed to gain access to data for analysis," said analyst Tim Bajarin, president of Creative Strategies, a tech research and advisory firm in San Jose, Calif.
Once customers upload satellite commands and data through an AWS Ground Station, they can integrate the data with Amazon cloud services. Data downloaded from the AWS Ground Station network can be processed in an EC2 instance, stored in Amazon S3, sent to Amazon's analytics and machine learning services, and moved to other regions and processing facilities at the user's discretion.
The AWS Ground Station strategy
The development of AWS Ground Stations is an attempt to make access to satellite data simpler and less expensive, said Shayn Hawthorne, senior manager of Ground Station. It also means AWS would own more of the overall data process: The company noticed that many of its customers already stored and analyzed satellite data on its cloud.
While some companies contract to take over a ground station when its primary user is idle, the tradeoff is that these companies must be flexible, waiting for availability. And they'd still have to manage the hardware to move the data into AWS. Instead, Amazon operates the hardware and supplies the equipment.
"It's another niche where Amazon has figured out an infrastructure play," said Roger Kay, analyst and president of Endpoint Technologies Associates, a market intelligence firm in Massachusetts.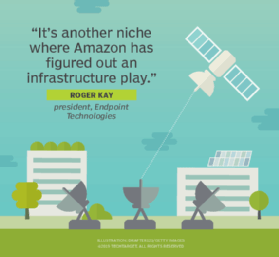 Amazon will choose the location of each Ground Station by proximity to AWS data centers, to ensure there is minimal lag time or latency. At time of publication, Amazon has not announced when the remaining Ground Station locations will launch.
Amazon is pitching an ecosystem of services, though it also notes the pay-as-you-go model means no upfront payments or long-term commitments. Users have the option to scale up Ground Station use as needed, similar to more traditional cloud services and a departure from the typical ground station rental agreements. "If you only need five minutes, but then realize you need an hour, you can scale up and get what you want," Hawthorne said.
AWS Ground Station use cases
Satellites perform lower-orbit earth imaging, with commercial applications that range from heat and multi-spectrum analysis of agricultural lands to hurricane information for weather services.
One AWS customer on board is Spire, a data and analytics company that operates 30 ground stations of its own around the world. The company claims that if Amazon had offered its satellite ground station service when Spire launched in 2012, it probably wouldn't have built its own.
"Spire is first and foremost a data company, and to get that data, analytics and insights to our customers we build satellites and ground stations," said Robert Sproles, director of ground stations and launch at Spire. He said AWS Ground Stations give Spire infrastructure when needed, without the upfront capital expense of building and fully utilizing a ground station.
Sproles said Spire is in touch with Amazon on where it plans to place future ground stations and wants to avoid building in the same areas. "Data latency is very important to us. AWS Ground Stations let us invest wisely and maintain geographic diversity," Sproles said.
Aside from Spire, Amazon touts a few other AWS Ground Station use cases. For example, there's an opportunity for better weather prediction capabilities. Customers could use AWS to analyze downlinked weather data from all over the world, which would help companies that rely on transportation services to avoid or at least better prepare for dangerous weather. Companies could also look at radar satellite imagery of parking lots, logistic centers and retail stores to measure cars, traffic and customer flow patterns.