Maksim Samasiuk - Fotolia
New Information Builders CEO targets modern CX, development
In Q&A, new CEO Frank Vella discusses how Information Builders is modernizing its WebFocus platform to make it easier to use and changing the vendor's internal culture.
Information Builders, the New York City-based BI vendor, recently made its first transition of CEO leadership in 43 years, marking an inflection point in the company's long history.
In January, Frank Vella, who started at the vendor in 2017 as chief operating officer, succeeded founder Gerald Cohen as Information Builders CEO. Cohen, 83, will stay on as chairman and senior adviser.
Information Builders was founded in 1975 as a privately held firm and was an early pioneer of fourth-generation programming language and database management. The vendor introduced the first iteration of its WebFocus BI and analytics platform in 1996. Today, Information Builders is looking to modernize its heritage products, methodologies and internal culture to help it stay competitive in the market. A focus for Vella is addressing a problem for many customers: the look, feel and usability of Information Builders' WebFocus platform -- which was revamped in October 2018.
In this Q&A,the first of a two-part series, Information Builders CEO Vella discusses the transition of leadership, what he's doing differently than Cohen and his focus on transparency, customer experience (CX), Agile methodologies and innovation.
Editor's note: The following has been edited for clarity and length.
What new ideas and outlook do you bring as Information Builders CEO?
Frank Vella: It's humbling to be able to succeed someone with the history and the background Gerry has. I'm pleased he's still in the business, and we're working together. My job is to continue to make sure we grow, innovate and be the best place to work in the industry because I want not just my existing staff to think this is a great place to work, but the people we're trying to attract need to see that as well. As CEO, those are my three priorities.
The product not only has to be what it was in terms of a reliable platform but also has to have a look and feel that customers love.

Frank VellaCEO, Information Builders
I would say one of the things I'm doing differently than Gerry is communication -- I have a clear focus on transparency. I grew up in a world at Microsoft where transparency is a cultural tenet, and with that, you empower people and hold them accountable -- or have them hold themselves accountable. I think that's a bit of a shift for the organization.
The pace at which we innovate and how we make decisions around product innovation is another big change. It is not unusual for the founder to be the product strategist and the product thinker. You often build what the founder wants you to build. Gerry has great insights there. What I'm trying to do is harness those insights but also bring discipline into the decision-making process [by asking]: What are the basics of product market fit? How does that tie into a roadmap for us? How do we prioritize what we build?
Another big change is in how we build it. We're institutionalizing elements of Agile computing and making the user experience -- the look, feel and function of the product -- a priority. I would say the focus has always been on building highly scalable products that work. Since the perspective has been engineers and developers building for IT and for other engineers and developers, that focus on the scalability and the reliability of the product has served us well, but it discounted the importance -- in this day and age -- of usability and logical flow. My perspective is that the product not only has to be what it was in terms of a reliable platform, but also has to have a look and feel that customers love. That's something I'm focusing on quite heavily.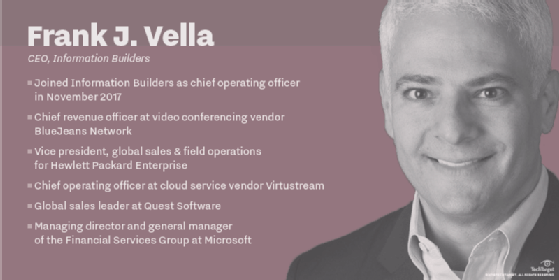 Information Builders undertook a major revamp of its WebFocus platform last fall that had significant user experience and UI improvements, correct?
Vella: Yes, in late October, we launched what we call the Designer version of the WebFocus [platform]. I acted as head of product at the time, and we truly identified what features and functions needed to get built in and what date we were going to release it -- and stuck to it. That discipline was something that we needed to bring back to how we do software because it drives quality. [With that release] we introduced the first elements of Agile development methodologies within the organization.
I've since hired a chief product officer who is more highly qualified than me to do this. He's taken it to the next level of re-engineering how we engineer, ensuring that quality is a discipline and ensuring that the sprints we've won are well-built and tested.
The Designer launch in October was specifically to address our customers saying, 'I love your product, but the logical flow isn't consistent,' or 'The look and feel is not as nice as what some of my own people build when they use your application.' There was a lot of demand from our customer base to address the ease-of-use element. You could open up our product, and you could look at it, but you couldn't intuitively understand what the icons mean and how to do [things]. So, our first new release addressed the bulk of that, and now, we're going to extend that to make sure that some of the more complex things, like joining complex or multiple data sets, have a look, feel and usability factor that is modern.
Editor's note: In part two, Vella discusses Information Builders' cloud-first approach and investment in machine learning.