carloscastilla - Fotolia
Information Builders CEO on cloud-first approach, machine learning
Information Builders' new CEO, Frank Vella, said the company's focus on cloud and machine learning will help it solidify a firm position in today's BI and analytics market.
In January, Frank Vella became the CEO of New York City-based BI vendor Information Builders -- the first new CEO since the company's founding 43 years ago. He succeeded Gerald Cohen, an original founder who will stay on as chairman and senior adviser.
That transition of leadership is bringing substantial change to Information Builders as it attempts to update its heritage products and methodologies to compete in the modern BI and analytics market. The changes include improving usability and adopting an Agile development approach, as Vella laid out in part one of this two-part Q&A series.
Another of those changes is Information Builders' new "cloud-first" approach and offerings. The vendor is partnering with AWS to form Information Builders Cloud -- cloud-based, end-to-end and fully managed BI and integration services, according to Information Builders. The vendor first introduced the AWS partnership at its Summit 2018 conference, but its cloud strategy and products now are more fully realized, according to Vella.
In part two of this Q&A, Vella discusses Information Builders' cloud-first approach and the impact cloud offerings are already having on the heritage software vendor's business. Vella also talks about the vendor's early exploration of machine learning and hopes of integrating the technology into its future products. Vella acknowledges he doesn't know what a machine learning component in Information Builders' products would look like quite yet.
Editor's note: The following has been edited for clarity and length.
Besides the usability factor, what other innovations are you looking to bring to Information Builders this year, next year and beyond?
Frank Vella: The market would call the bundle of things we're doing 'advanced analytics.' We have one of the most robust engines in the market -- exposing that to elements of artificial intelligence and machine learning [is a priority]. We have components of [AI and machine learning] already, but we need to do a better job of refining them and exposing them to the market. We have joined forces with the University of Waterloo in Canada -- a wonderful engineering school -- to initiate an innovation lab. At this time, [the innovation lab] is focused on adding a machine learning component to our next version of the product. So, we're proud of that.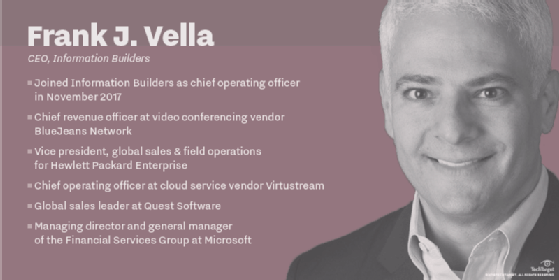 Please talk about Information Builders' cloud strategy and new cloud-first approach.
Vella: I spent several years at a company called Virtustream when cloud was a confusing and poorly defined concept. My experience there led me to believe that [Information Builders] could quickly launch a cloud offering. We did not build our own infrastructure; we used Amazon's infrastructure. We achieved the highest level of certification offered -- consulting-level certification -- and launched our software as a service in the cloud in July. The impact has been tremendous.
Everything we launch will be launched cloud-first and with perpetual offerings.

Frank VellaCEO, Information Builders
We have relatively long sales cycles -- sometimes as long as a year or more -- because we build large, complex applications for the enterprise. In the first six months [after launching the cloud SaaS], we acquired 10 new customers in the cloud and already have a multimillion-dollar cloud business.
We are continuing to invest in [our cloud-first approach]. Everything we launch will be launched cloud-first and with perpetual offerings. We'll offer perpetual cloud now for everything we launch, and we're extending that offering to a managed services offering in the cloud. We have very large customers -- brands you would recognize -- that have large instances of our platform, and they say they want to move it to either an Amazon Cloud or an Azure cloud and would like us to manage it and deliver it back to them as a service. So, we are developing that offering specifically for these two customers -- one is a state government, and the other is a big insurance company. That will be the launching point for our cloud managed services offering.