Maksim Kabakou - Fotolia
Tibco analytics capabilities get upgrade in Spotfire X
New Tibco AI and natural language processing functions in the soon-to-be-released Spotfire X look to create a simpler and faster experience for self-service BI users.
Spotfire X, the latest iteration of the Tibco analytics and data visualization platform, aims to give users a more...
Continue Reading This Article
Enjoy this article as well as all of our content, including E-Guides, news, tips and more.
streamlined experience by incorporating more AI and machine learning capabilities when the upgraded platform is released this fall.
Notably, the platform update, characterized by what Tibco has dubbed a "A(X) Experience," will enable users to type in requests to navigate and visualize their data through natural language processing (NLP), to automatically record dataflows that can later be explored and edited. It also will natively stream data in real time from dozens of sources.
The Spotfire X features are designed to create a faster and simpler user experience, according to Brad Hopper, vice president of product strategy, analytics and streaming at the integration and analytics software vendor. "This will allow us to take a complete novice off the street, put them in front of the tool, and no matter what they will get something back," he said.
Search for simple
With the rise of citizen data scientists, it has become a trend for self-service analytics vendors to design platforms that are easier to use and more automatic, turning to employing AI and machine learning algorithms to do so.
Earlier this year, a Tibco competitor, Tableau, acquired MIT AI startup Empirical Systems, whose technology is expected to provide Tableau platforms with more advanced predictive analytics capabilities and better automated models. Also this year, Qlik, another big-name self-service analytics vendor, acquired startup Podium Data in a bid to better automate parts of its platforms and make them simpler to use.
"There is a trend in the market ... for AI and machine learning to be used to explore all the possible data, all the possible variables," said Rita Sallam, a Gartner analyst.
With the new Spotfire X features, Tibco analytics is looking forward, even if the features aren't necessarily innovative on their own, she said.
"They're leveraging natural language as a way to initiate a question and they are, based on that question, generating all the statistically meaningful insight on that data so the user can see all the possible insights on that data," Sallam said.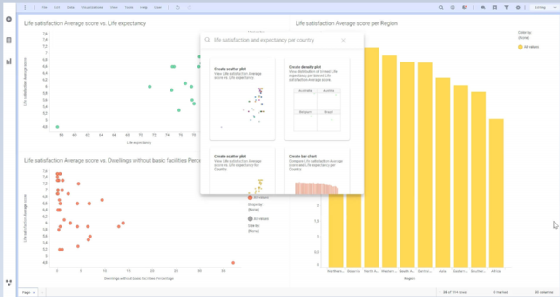 AI advice
With the A(X) Experience, Spotfire X also will deliver AI-driven recommendations for users.
"We've built in a fairly sophisticated machine learning model behind the scenes," Hopper said.
The Tibco analytics platform can already use AI to automatically index different pieces of data and suggest relationships between them.
Now from Spotfire X's NLP-powered search box, users will be able to receive a list of visualization recommendations, starting with "classical recommendations" before getting to "a ranked list of interesting structural variations," Hopper explained.
While AI is not replacing BI, BI tools that infuse AI functionality will displace the tools that don't.

Boris Evelsonanalyst, Forrester
Forrester analyst Boris Evelson said the Tibco analytics and Spotfire X moves are "yet another confirmation of a trend that leading BI products need a dose of AI to remain effective."
"While AI is not replacing BI, BI tools that infuse AI functionality will displace the tools that don't," Evelson said.
Tibco made the Spotfire X announcements during the Tibco Now conference in Las Vegas in early September 2018.
The enhancements to Tibco analytics capabilities were among other product developments unveiled at the event. Others included the a user-partner collaboration program called Tibco Labs, more tools for Tibco Cloud, and a new collaboration between Tibco and manufacturing services company Jabil.