red150770 - Fotolia
Building a data science team in today's data-centric climate
Finding and training data scientists to build a data science team can be challenging. But in a recent webinar, a Gartner analyst offered tips on how to do it.
It isn't easy building a data science team that can agilely deal with the demands of businesses in today's data-centric world. Big data is more pervasive and easier to accumulate than ever, and new machine learning tools that help sort through it seem to pop up daily.
As data scientists find themselves reporting to a larger variety of departments, the profession is becoming "hard to define," according to Peter Krensky, a senior research analyst at Gartner.
Speaking in a recent webinar from the research and advisory firm, entitled "The Essentials of Data Science and Machine Learning," Krensky offered several tips on building a data science team for the modern world.
Finding talent
Core data scientists, or data scientists who have been trained or educated specifically in the field, are hard to come by, Krensky said. There's a talent shortage, he said, and increasing demand for machine learning tools to automate what might have been done by traditional data scientists isn't helping.
While Krensky noted that more colleges and universities are beginning to offer degrees in the fields of data or business analytics, and academia is one of the top sources of data science and machine learning talent, hiring a core data scientist can be costly. Internships, however, can serve as a "win-win" for both businesses and students, he said.
By working with schools and welcoming student internships, a business can "get an injection of the latest and greatest tools and techniques that are being used" and taught, and students can earn valuable experience, Krensky said.
For smaller analytics jobs, he said, there is an also-growing gig economy of moonlighting professionals that organizations can tap.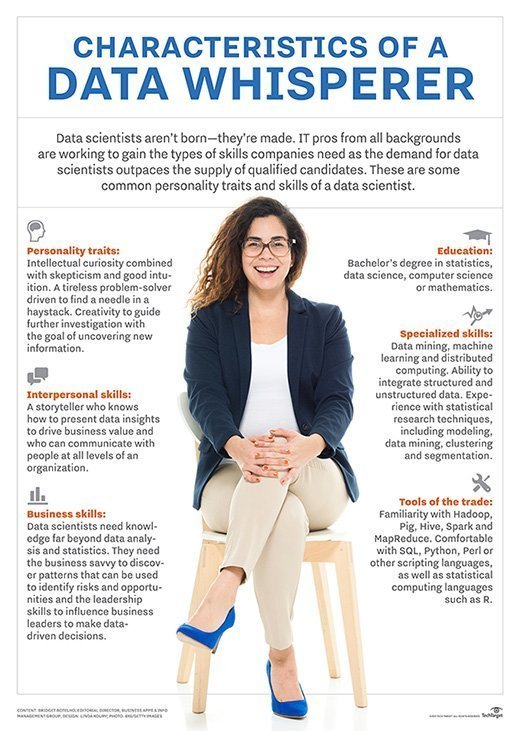 Creating a citizen data scientist
Citizen data scientists have emerged as an important group for building a data science team. A citizen data scientist is "a person who creates or generates models that leverage predictive or prescriptive analytics, but whose primary job function is outside of the field of statistics and analytics," according to a definition from Gartner.
Citizen data scientists can come from a variety of backgrounds, Krensky noted, and employers should recruit widely and be sure to take stock of employee skills when building a data science team.
Employers should also "allow time for training promising candidates," Krensky recommended.
Where to use data scientists
Data scientists "are all over the place," Krensky said, and they are reporting to many different departments.
Most commonly, however, Krensky said he found data science teams "are in the line of businesses, embedded right alongside the business function they are working for."
That might include a data science team in sales, R&D and marketing, he said. While data teams are also used in IT, Krensky said that's not a model he recommends, because teams appear to work best in businesses-related departments.
Dig Deeper on Business intelligence management