Sergey Nivens - Fotolia
10 cloud computing experts you should follow
Get up to speed on what's happening in the cloud by following some of the top voices in the industry, including those who are building the technologies and other industry experts.
Cloud computing is awash with talking heads, so it's not always easy to know who to listen to or where to turn. But, if you follow the right people, you can gain invaluable insights about the technology.
We've narrowed our list down to 10 cloud computing experts you should follow, either on social media or through their blogs. These luminaries work on the largest public clouds -- AWS, Microsoft Azure and Google Cloud -- or closely follow the market and provide shrewd commentary on the state of cloud and digital strategy.
This list is subjective and far from exhaustive, but it's a good start if you want to get a taste for what's going on in cloud technology, cloud strategy and the ever-expanding community of users. From there, you'll find other cloud computing experts who are worth your time.
Jeff Barr
Jeff Barr was proselytizing about AWS years before the cloud giant even launched its first product and hasn't stopped since. As chief evangelist for AWS, Barr is often the first one to explain the latest technologies from the cloud giant.
Adrian Cockcroft
Adrian Cockcroft is vice president of cloud architecture strategy at AWS and a former board member of the Cloud Native Computing Foundation. Cockcroft has a long history as an engineer, including stops at Netflix, eBay and Sun Microsystems. These days, Cockcroft is known for open source advocacy and efforts to change AWS' reputation in that community.
Abby Fuller
Abby Fuller worked in DevOps for several startups before joining AWS in 2016. While working for the cloud giant, Fuller has been a senior technical evangelist, as well as a principal technologist and leading voice on containers. Currently working on Amazon EC2 and Linux, Fuller has earned praise for an ability to connect with the community and for speaking out about the unequal treatment of women in tech.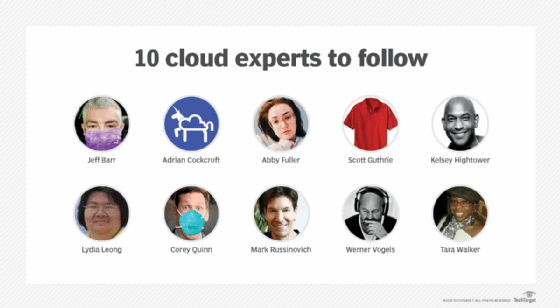 Scott Guthrie
Scott Guthrie is executive vice president of cloud and AI at Microsoft. With more than two decades at Microsoft, Guthrie was there for the early days of the company's foray into cloud and currently oversees engineering efforts for Azure, Dynamics 365, Windows Server, Visual Studio and VS Code, GitHub, SQL Server and Power BI. And, if you want to pick Guthrie out of a crowd, look for the red polo shirt.
Kelsey Hightower
Kelsey Hightower has worked as a sys admin and a developer and is now a principal developer advocate at Google and a leading voice on Kubernetes. Hightower's presentations exude a warmth and excitement about learning and teaching new technologies. Hightower earned plaudits for efforts to spotlight issues pertaining to underrepresented groups in tech, including a 2019 KubeCon keynote on the importance of inclusion.
Lydia Leong
Few industry analysts' words carry as much weight as Lydia Leong's. A vice president and distinguished analyst at Gartner, Leong also runs a blog that discusses cloud and data center infrastructure. Matter-of-fact analysis of public cloud platforms and the challenges organizations face in their transition to cloud make Leong one of the top cloud analysts.
Corey Quinn
In addition to working as chief cloud economist at The Duckbill Group, Corey Quinn writes a cloud-related newsletter and hosts podcasts. Quinn and his bombastic Twitter persona rose from relative obscurity to a major voice in the cloud market in just a few years, with a mix of snark, self-deprecation and astute dissection of AWS billing nightmares. In an industry that often takes itself too seriously -- and sometimes not seriously enough -- Quinn's commentary has hit a nerve.
Mark Russinovich
Mark Russinovich is CTO at Microsoft Azure and currently leads the technical strategy for Azure. Russinovich has been with Microsoft since the data protection company he co-founded, Winternals Software, was acquired in 2006. Russinovich has also written three novels.
Werner Vogels
Amazon CTO Werner Vogels muses on tech topics at the All Things Distributed blog. A Vogels keynote speech is considered a must-attend session for those who travel to re:Invent, AWS' annual user conference. In recent years, those talks have veered away from product launches and become more like dissertations on the state of cloud and where it needs to go.
Tara Walker
Tara Walker is a principal software engineer on the Azure IoT team at Microsoft. As a one-time evangelist at AWS, Walker has plenty of experience with the two largest public cloud providers. Walker's Twitter feed is a mix of advocacy for racial equality and insights on cutting-edge cloud technologies.