Fotolia
Google, Microsoft add to their cloud migration toolkits
New cloud migration tools and services from Google and Microsoft seek to meet customer demand for easier, faster deployments amid rising favor for multi-cloud deployments.
Microsoft and Google have added a series of new cloud migration features and services meant to help customers migrate workloads to their hyperscale platforms as competition with AWS continues to mount and more enterprises adopt multi-cloud strategies.
Google unveiled Google Cloud Rapid Assessment & Migration Program (RAMP), which has six components meant to help customers adopt its cloud platform and services. They include best-practice documents for reference architectures, application migration and other topics; training resources; migration tools; help from Google experts and partners; and incentive programs for workload migration.
Google is also offering prospects a migration assessment at no charge. The assessment includes an inventory of a company's virtual and physical servers, as well as a total cost of ownership report on moving to the cloud that is valued at $20,000, according to the company. Google partners StratoZone and CloudPhysics will help generate the reports.
Cloud migration programs have been the catalyst to move on-premises workloads to the cloud; as such, they play an important role in the overall growth of any public cloud provider, said Holger Mueller, an analyst at Constellation Research. As the No. 3 player, Google Cloud has to be a little more creative and aggressive than AWS and Azure, and it is trying to do so with the RAMP offering, he said.
The hyperscalers have responded to the demand for hybrid cloud and now are in the process of responding to customers that want the ability to run and migrate workloads to more than one public cloud.

Jay LymanAnalyst, 451 Research
"It is also notable that Google has upgraded its 'enterprise IT' speech -- with key qualities such as repeatable and predictable," Mueller added. "This is what enterprises want when moving to the public cloud, a predictable process that delivers outcomes -- with no headaches."
In its earlier days, Google Cloud was seen primarily as a target for individual developers and startups. The company shifted focus a few years ago to large enterprises, bringing in longtime former Oracle executive Thomas Kurian as CEO. RAMP reflects this strategy, as does Google Cloud's Premium Support tier, which launched earlier this year.
Meanwhile, Microsoft recently took additional steps to build on its Azure Migrate tool set, which includes a software appliance that can map out a customer's on-premises servers. It can also assess the risk of moving the customer to the cloud due to interrelated dependencies and other factors.
Microsoft also added two new options to its Azure Migration Program (AMP), which bears similarities to Google Cloud RAMP. Now AMP supports the migration of on-premises virtual desktop to Windows Virtual Desktop, and on-premises apps built in .NET to Azure App Service and Azure SQL.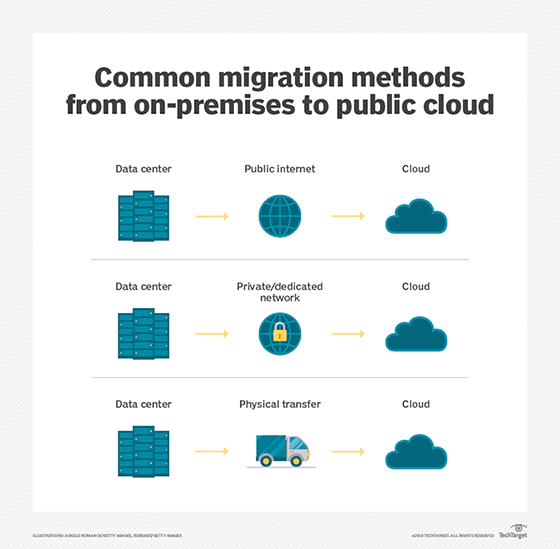 Multi-cloud changes the cloud migration equation
Both RAMP and AMP ultimately serve as lead and sales generation tools for Google and Microsoft, by convincing customers the move to their clouds will be easy, low-risk and present opportunities for cost savings.
New cloud infrastructure market share numbers from Synergy Research found that Google Cloud grew slightly to 9%, while Azure remained flat at 18%. AWS stood at 33% in the second quarter, according to Synergy.
But fewer enterprises are going all-in with a single hyperscaler these days, said Jay Lyman, an analyst at 451 Research.
"Enterprise customers want and need flexibility and portability for their applications so they can run them on the most appropriate infrastructure based on factors such as cost, performance, data sovereignty and geographical location," Lyman said.
This means hybrid infrastructure that includes both on-premises and public cloud environments, as well as multi-cloud deployments that span multiple public clouds. Google's Anthos container management platform seeks to address this need, as does Microsoft's more recently announced Azure Arc.
"The hyperscalers have responded to the demand for hybrid cloud and now are in the process of responding to customers that want the ability to run and migrate workloads to more than one public cloud," he added. "This is typically not about a single application that leverages multiple public clouds, but rather across an organization's application portfolio -- which may be hundreds or thousands of applications.
"Enterprises are not generally going to put all of their applications on one public cloud, reminiscent of the Linux distributions that acknowledged and supported the use of competing distributions in order to address the reality for most customers," Lyman added.