chris - Fotolia
Rancher plots enterprise Kubernetes management takeover
Flush with funding, Rancher hopes to win deals away from major IT software vendors such as VMware as enterprises seek help with Kubernetes management.
Rancher Labs hopes a major new release of its Kubernetes management platform along with a fresh infusion of venture capital can help it compete with the likes of IBM Red Hat and VMware.
The update includes support for nondisruptive upgrades to the Rancher Kubernetes management platform, includes a hosted Kubernetes management service, boosts multi-cluster management scalability and further refines Rancher's Kubernetes security enforcement. Now the container management startup will gird itself for heightened competition with much larger, well-established enterprise IT software providers, most notably IBM Red Hat and VMware's recently launched Tanzu product line.
Rancher believes many enterprises would rather bet on a newer player like itself for Kubernetes management than spend that money with its bigger rivals.
"Our dedicated focus and knowledge of Kubernetes and cloud-native technologies is what makes us different than our legacy competitors," said Rancher CEO Sheng Liang. "Many of our customers tell us they choose Rancher because of the extremely negative support experience they had with legacy vendors including IBM and VMware."
Rancher, VMware and IBM Red Hat all offer products that can centrally manage multiple Kubernetes clusters in on-premises data centers and in public clouds, and IBM and VMware can draw on their vast install bases within enterprise IT shops. Those companies also dwarf Rancher, with more than 24,000 employees at VMware and more than 350,000 at IBM, compared to about 200 at Rancher. The company will use some of its $40 million Series D funding round this month to add employees in sales, marketing, operations and customer support.
However, Rancher was among the first IT vendors to specialize in containers, and moreover to focus on Kubernetes management over other container orchestration tools. The privately-held company reported 169% year-on-year revenue growth and said it doubled its customer base in 2019. Company officials said Rancher has hundreds of customers, but did not disclose a specific number of enterprise accounts.
"[Rancher's] not necessarily the primary vendor for everybody out there," said Jay Lyman, analyst at 451 Research, now part of S&P Global. "But they have been in the container game a long time now, and their hybrid and multi-cloud support is strong at a time the market is still figuring out how many [Kubernetes] clusters and nodes they should have, and how they can centrally manage them."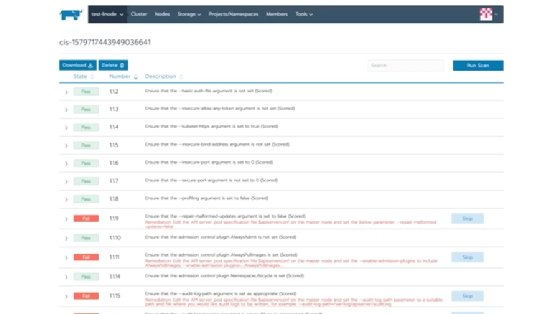 Rancher 2.4 buffs up upgrades, Kubernetes security
Rancher's 2.4 release, rolled out this week, shores up a few feature gaps that will help it match up against enterprise IT giants. Among the most important is support for zero-downtime upgrades to Rancher Kubernetes clusters, a feature Red Hat OpenShift Ansible has supported since 2016, and VMware's Ops Manager can match with Tanzu.
Previous versions of the Kubernetes management software could migrate to newer upstream Kubernetes versions without taking applications down, but the process disrupted network traffic to those applications. With version 2.4, IT admins can select a subset of Kubernetes worker nodes to upgrade, and configure a rolling upgrade strategy that keeps traffic flowing to apps through associated DNS services and ingress controllers.
One Rancher customer welcomed the advancements.
"This is a real step in maturation for the [Rancher] product," said Zach Dunn, senior director of platform operations and CISO at Optoro, a software company that manages return logistics for retailers in Washington, D.C. "It will remove the last barrier to staying on the newest stable version of Kubernetes, for the best support and new features, where even big boys like Google Cloud may be further behind [with stable upstream release support]."
Optoro used weekend maintenance windows to perform such upgrades in the past, but now that it doesn't need downtime for maintenance, it can perform more frequent and incremental updates to the most recent version of Kubernetes, Dunn said.
"My bosses aren't stupid; they've looked at me and said, 'Don't we have this thing that gives us high availability?'" he said. "And I've had to say, 'Yeah, but if you want to upgrade that thing, you have to stop the world.'"
This is a real step in maturation for the [Rancher] product. It will remove the last barrier to staying on the newest stable version of Kubernetes.

Zach DunnSenior director of platform operations and CISO, Optoro
Rancher 2.4 also fleshes out Kubernetes security support with the ability to run ad-hoc CIS Benchmark security scans on running clusters. Then users can generate reports through the Rancher UI that point out Kubernetes security problems and suggest remediations. This builds on support for CIS-conformant Kubernetes deployment templates in Rancher 2.3.
Red Hat OpenShift also offers CIS benchmark scans with Kube-Bench, and VMware Tanzu through Heptio's Sonobuoy. Rancher's architecture is almost completely container-based, which can throw third-party scanning tools off because it requires privileged containers for some management functions, Dunn said.
Hosted Rancher broadens Kubernetes management pitch
In addition to nondisruptive upgrades and reinforced security, Rancher could extend its appeal to a wider variety of IT organizations with the new Hosted Rancher service it launched with version 2.4. Rancher engineers on the service will manage the "manager of managers" Rancher Server on customers' behalf. The service joins a huge crowd of managed Kubernetes services available to enterprises, but was important for Rancher to match with its own service, 451 Research's Lyman said.
"Smaller organizations are willing to pay a premium for cloud services to overcome personnel shortages," Lyman said. "But even larger organizations may want both [hosted and self-managed options]."
Over the last year, Rancher gained an edge in Kubernetes edge computing for remote and branch locations as well as IoT devices. This will require much broader scalability for the management platform so it can support potentially millions of IoT clusters. Version 2.4 can manage up to 2,000 clusters with 100,000 nodes, and version 2.5, due out in the fall, will support up to 1 million clusters.
Optoro's Dunn said he also hopes to see Rancher continue to develop support for federated Kubernetes clusters and fleet management approaches that put multiple clusters into a single abstracted resource pool across clouds, something Rancher officials say is also on the company's long-term roadmap.