WavebreakMediaMicro - Fotolia
Microsoft's Azure Arc reaches GA milestone
Microsoft has delivered a key component of Azure Arc -- the ability to manage Windows and Linux-based virtual and physical servers in on-premises environments and rival clouds.
A key component of Microsoft's Azure Arc service is now generally available, giving customers the ability to manage servers running on any infrastructure as if they were resources in the Azure public cloud.
First launched in November 2019, Azure Arc is based on the Resource Manager component of Azure and targets hybrid and multi-cloud scenarios, which have growing interest among enterprises.
Microsoft's plans for Arc go well beyond server management, however.
This week, the company also released a preview of Azure Arc data services, with initial support for Azure SQL Managed Instance and Azure PostgreSQL Hyperscale database running in customer data centers, across multiple clouds and in edge environments.
Support for managing Kubernetes clusters in Azure Arc remains in preview after its launch in May. Customers can run most Cloud Native Computing Foundation-certified Kubernetes distributions "out of the box" with Azure Arc, according to Microsoft.
Azure Arc's server management capabilities apply to both virtual and physical Windows and Linux servers. Microsoft's goal is flexibility, said Ryan Puffer, program manager for Azure Arc enabled servers, in a question-and-answer session at the virtual Ignite conference.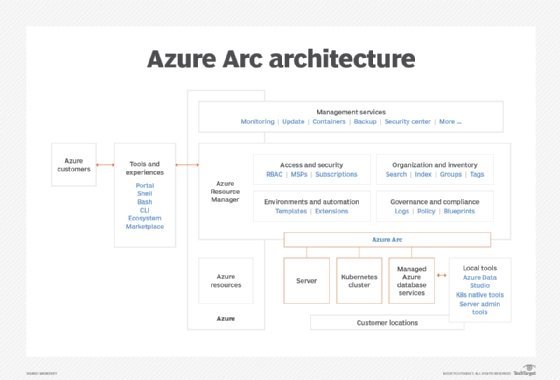 "We don't really care where your server is running," he said. "All it needs is to have a certified operating system and an internet connection so we can connect to Azure."
Arc could also make large-scale migrations to the Azure cloud less of a headache for enterprises while getting Azure's benefits in the meantime, said Nir Ben-Zvi, group program manager, in the Ignite session. He cited a hypothetical example of a customer with 1,000 on-premises instances of SQL Server.
"You can onboard them into Arc and you get the immediate visibility, inventory tagging, as well as the security and assessment mechanisms without needing to do an expensive migration of your code to another platform," Ben-Zvi said.
Azure Arc fits into broader trend
Arc bears some similarities to Google Anthos, which provides a stack of software for managing containerized applications across on-premises environments and multiple clouds. It also builds on Azure Stack, which brings the Azure public cloud software fabric into customer data centers on specialized appliances.
A lot of enterprise IT organizations are starting to think about, how do they manage multiple clouds and extract value from them through efficient management.

Stephen ElliotAnalyst, IDC
Microsoft's emphasis on database support within Arc is key for enterprises from both a performance and data residency perspective, said Holger Mueller, an analyst at Constellation Research. "With numerous data residency initiatives and regulations in law and in [development], enterprises need all the flexibility they can get for data movement, storage and access in order to stay compliant," he said.
Overall, Arc and products like it are getting attention from enterprises pursuing hybrid and multi-cloud strategies, said Stephen Elliot, an analyst at IDC. "A lot of enterprise IT organizations are starting to think about, how do they manage multiple clouds and extract value from them through efficient management?" he said. "It's a pretty big theme."
But Microsoft's emphasis on managing on-premises servers as they stand with Arc is telling, he added. "They've been in the enterprise for so long with their applications," he said. "They recognize that a lot of applications will remain on premises for a lot of really good reasons, and it's not going to change."
Arc also provides Microsoft with a way to make money off customers who need to keep those workloads on premises but find Azure's tools for security, monitoring and other purposes attractive. There is no charge to use the Azure Arc control plane to manage servers, but the Kubernetes and data services options will incur costs once they are generally available. Add-on Azure services will be charged at their usual rate, according to Microsoft.
This model makes sense, in Elliot's view. "The one thing the big public cloud providers are conscious of is they don't want to have management as a tax," he said. "This is about platform adoption and making it easier for enterprises to control, orchestrate and drive a standardized level of processes."
Dig Deeper on Cloud deployment and architecture