Get started
Bring yourself up to speed with our introductory content.
Five cloud computing skills to propel your career in 2018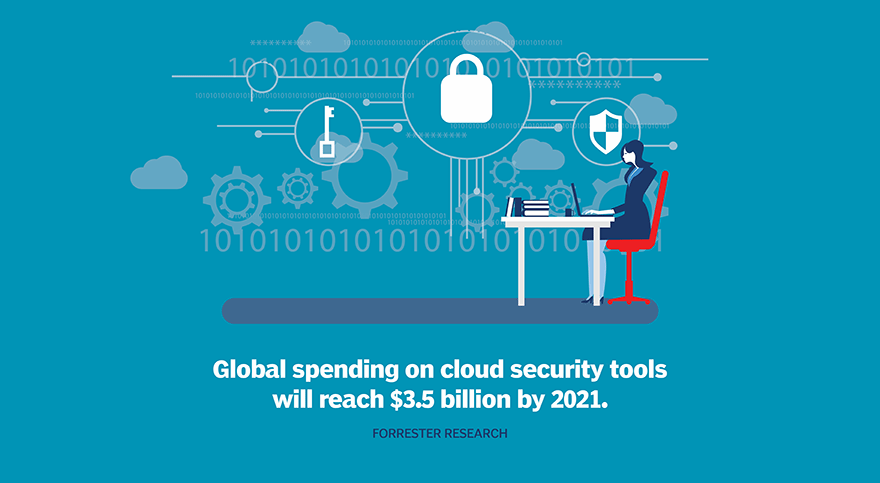 Source:
Zenzen/Adobe Stock
High-profile, headline-grabbing data breaches continue to make cloud security an utmost priority. Global spending on cloud security tools will reach $3.5 billion by 2021, a compound annual growth rate of 28% over the next five years, according to Forrester.
Cloud security investments aren't exactly new in the enterprise. But in 2018, rather than recruit candidates with a wide swath of IT security knowledge, organizations will be on the lookout for cloud security specialists with deep knowledge of provider-native security tools. Employers increasingly want depth, not breadth.
"In terms of the most important skills, security was the top answer and then cloud platform expertise was next," said Jay Lyman, principal analyst at 451 Research, referring to results from the firm's recent Voice of the Enterprise survey. "[That's] mostly public cloud ... and that's where a lot of the growth is."
AWS, Azure and Google provide similar types of security services, such as monitoring, encryption and identity management. Still, these tools operate differently, in ways that are unique to each particular cloud platform -- meaning knowledge of one doesn't necessarily translate to another.
"Basically, somebody on your team needs to become an expert on the security approach that your cloud provider takes," said Dave Bartoletti, principal analyst at Forrester.
To boost their resumes, cloud security specialists should fine-tune their platform-specific skills via training and certifications. If their company uses AWS, for example, they should hone their knowledge of built-in tools on that platform, such as AWS Config, a service that provides more granular control over cloud resources and sends automatic alerts to warn of potential risks.
"Today, it's mostly about using those built-in security controls," said Anthony James, CEO of Linux Academy, an online IT training company.
To ensure their cloud computing skills stay relevant, security managers must also keep pace with the latest trends, such as artificial intelligence and machine learning, which some providers now incorporate to strengthen their offerings. For example, in August 2017, AWS introduced Amazon Macie, a managed security service that uses machine learning to automatically find, categorize and protect data stored in AWS.
DevOps integration is another trend for cloud security specialists to focus on, according to Lyman.
"Security will be increasingly a big part of DevOps deployments," he said. "[Those are] pretty key skills to combine or have familiarity with, at least."
Lastly, stay up to speed with the latest compliance and regulatory requirements, especially with the approval of General Data Protection Regulation in Europe.
View All Photo Stories