Get started
Bring yourself up to speed with our introductory content.
Five cloud computing skills to propel your career in 2018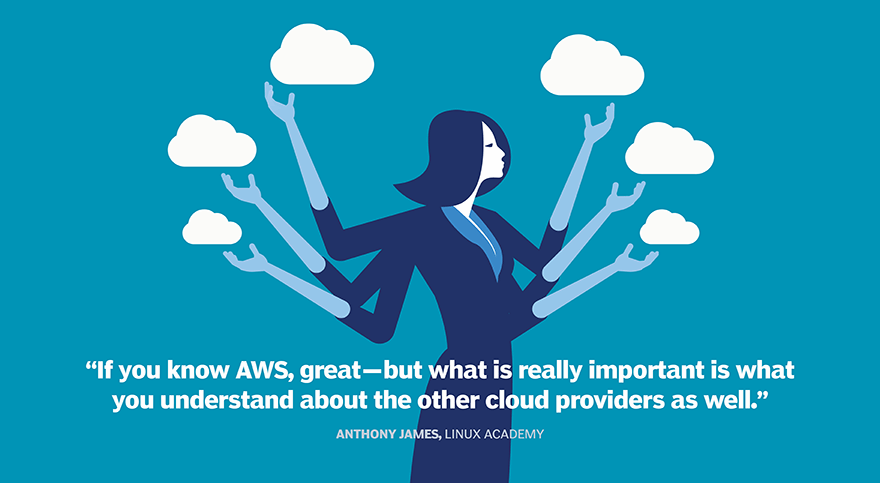 Source:
Zenzen/Adobe Stock
Enterprises increasingly pursue multi-cloud deployments to have the flexibility to choose different hosting environments based on performance, cost and other factors. As a result, IT pros should expand their cloud computing skills across multiple infrastructure-as-a-service providers.
"What we'll see in 2018 and 2019 is more companies using multiple public clouds for different things," said Dave Bartoletti, principal analyst at Forrester. For example, a company might create a functions-based program with Google cloud storage for data backups, apply machine learning services on Azure and deploy Lambda in AWS.
Azure, AWS and Google continue to be the most popular choices for public cloud, and there are some overlaps in their portfolios, but also significant differences, particularly in their management tools.
To move forward with multi-cloud deployments, organizations in 2018 will seek IT pros who can speak the management language of these various cloud providers.
"If you know AWS, great -- but what is really important is what you understand about the other cloud providers as well, and how you might use multicomponents ... to increase your high availability," said Anthony James, CEO of Linux Academy, an online IT training company.
In addition to a strong grasp on different providers' platforms and management tools, enterprises with multi-cloud deployments highly value networking skill sets. That's also a must-have for hybrid cloud, where organizations need to move data between private and public clouds with high performance and reliability.
"The more you start moving pieces of your applications to the public cloud, [the more] you have to deal with things like latency, performance [and] data migration challenges," Bartoletti said. "All of that requires a stable, extended network from your data center into the public cloud."
To implement the secure, reliable network for a hybrid or multi-cloud architecture, IT pros should familiarize themselves with direct connection options from public cloud providers, such as AWS Direct Connect, Azure ExpressRoute and Google Cloud Dedicated Interconnect. These services enable an enterprise to bypass the public internet and connect on-premises environment to the cloud through a private, low-latency network.
Enterprises that plan hybrid or multi-cloud deployments will also be on the hunt for IT pros with container experience to help facilitate application portability across cloud environments. The most in-demand container skills involve Docker and Kubernetes.
"Kubernetes really empowers the ability to go across [multiple clouds] without vendor lock-in, but it also helps empower hybrid migration from on premises to the cloud," James said.
View All Photo Stories